Whether you are just looking to get into a Halloween-y mood by reading about some local haunted places or looking for some spooky places to visit with friends, this is the list for you. As one of the oldest regions in New Hampshire, Monadnock is filled with haunted locations, spooky spots and potentially supernatural dens.
1. Amos J. Blake Museum, Fitzwilliam NH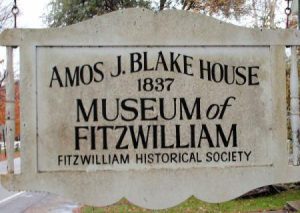 The Amos J. Blake Museum in Fitzwilliam, NH is currently the home of the Fitzwilliam Historical Society. The home was built in 1837, designed to be a store with a living quarters attached. The museum has been examined by numerous paranormal societies and was featured in season 6 of the series Ghost Hunters.
The Amos Blake house has a litany of different paranormal activity. Terri Harlow, curator and amateur paranormal investigator, has experienced more inexplicable happenings than she can count.  "There are eleven confirmed ghosts here, not including the cat," she told Joni Mayhan, a local Paranormal Investigator.
Outside of the cat's toy mysteriously moving around the house, some people have seen the small cat as a misty little fuzz ball around the house. Similarly, children's toys placed on the mantel have been found scattered across the floor almost as if a child had been playing with them. When the show Ghost Hunters appeared on scene, they too found that chains in the store moved on their own accord.
It may be the attic, though, that has the most intrigue, supposedly housing an old grumpy man, a woman and several children. Add to all of this, the reported picture of a shadowy figure, people feeling uneasy and hearing strange sounds and numerous stories of disembodied voices and you have one very haunted historical society museum.
2. Keene State College: Huntress Hall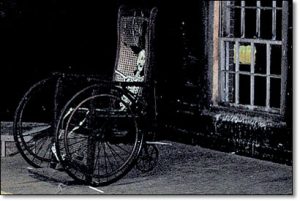 Huntress Hall is a dormitory on Keene State College's campus that was built in 1926, designed to house 157 female students. It is named for Harriet Lane Huntress (1860-1922), who was on the state board of education and a major advocate for Keene Normal School.
Rumors of the haunting began during World War II when pilots training in Keene were housed with females from the college in the dormitory. Students and pilots reported that they could hear Huntress noisily rolling around in a wheelchair in the attic. Till this day, the ghost persists with many saying they can hear the chair during the night.
3. Madam Sherri's Forest
As we have written about before, Madam Sherri's Forest is filled with intrigue. Madame Sherri was an eccentric costume designer who took a liking to the woods just off Gulf Road in Chesterfield, New Hampshire.
She liked the area so much that she decided to erect a "castle in the woods". As one visitor later recalled the final work was: "a theatrical French chateau of New Hampshire stone, wreathed in Roman arches and crowned with a chalet roof. An imposing stone staircase—grand enough for a Follies stage set … had stone flower boxes with red and white flowers earning the name 'Primrose Path'. The main stairs, cut into the rock ledge, leading to a massive RED front door."Adding to the atmosphere, there was even supposed to be a tree growing through the center of the house and out of the roof.
Supposedly Sherri entertained, a lot. It was rumored that she had swinging parties inviting all sorts of guests and celebrities from New York and hiring electric bands to provide entertainment. But, the fun ended only a few years after it began as Sherri couldn't afford to keep the castle up.
Sadly, the castle was burned down 1962, but the remains of the grand staircase and fireplace still stand. Many visitors have reported hearing voices, music and the sounds of parties. Some have even suggested that they could make out the long passed designer, eloquently standing at the top of the stairs about to return to her guests.
4. Vale End Cemetery, Wilton NH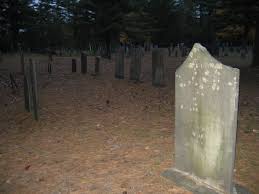 Vale End Cemetery's haunting all centers around the supposed "Blue Lady." People have reported seeing blue lights coming from her grave, feeling cold spots near her headstone, and noticing white plasma. A few years ago, a group of ghost hunters reported hearing strange noises along the path as well as mist showing up in their photos.
The "Blue Lady's" headstone refers to the Marry Ritter plot where two Mary Spauldings are reportedly buried. Both were married to Isaac Spaulding. Many believe that the ghost is Marry Ritter, Isaac's first wife who died young and childless. Some think that it could be Isaac's second wife, Mary Colburn. Theories have emerged that Ritter's death may have involved foul play or have come during child birth, leading her to wander the graveyard in search of her long lost son.
Those who think the ghost is Mary Colburn suggest that she could still be harboring resentment to her husband's first wife, who she has to share a plot with for all of eternity.