For centuries, the Monadnock region's unparalleled beauty and natural landscape has attracted our country's most prestigious artists to the area. Our region's focal point, Mount Monadnock, acts as great fodder for inspiration as it emerges alone from the hillside. Beyond the mountain, the landscape has a unique lushness, punctuated by more lakes than The Lakes Region of New Hampshire. Simply, there's a lot to write about.
Here's our list of our favorite passages:
1. H. P. Lovecraft's 
To Templeton and Mount Monadnock
"Look to the north where Grand Monadnock's height
Enchains the fancy, and rewards the sight;
Such rock-ribb'd hills our own New-England gave
To mould her sons as rugged and as brave.
Ancient Monadnock! Silent pine-girt hill,
Whose majesty could move a Whittier's quill;
Whose distant brow the humbler pen excites;
Whose purpled slope the raptur'd gaze invites;
Stand thou! Great Sentinel, though nations fall –
In thee New-England triumphs over all!"
This passage from Lovecraft's "To Templeton and Mount Monadnock" seems to capture Monadnock's majesty. Lovecraft has posthumously became known as one of the 20th centuries greatest horror fiction writers, but this poem displays his artistic rang. We liked the way this passage heralds the Mount Monadnock and decrees its reign over all of New England.
2. Ralph Waldo Emerson's Monadnoc
"To far eyes, an aërial isle,
Unploughed, which finer spirits pile,
Which morn and crimson evening paint
For bard, for lover, and for saint;
The country's core,
Inspirer, prophet evermore,
Pillar which God aloft had set
So that men might it not forget,
It should be their life's ornament,
And mix itself with each event;
Their calendar and dial,
Barometer, and chemic phial,
Garden of berries, perch of birds,
Pasture of pool-haunting herds,
Graced by each change of sum untold,
Earth-baking heat, stone-cleaving cold."
 This is one of the most descriptive passages of Emerson's poem titled, "Monadnock". The prolific Transcendentalists writer begin to write the piece  while sitting at the summit of Mount Monadnock on May 3rd 1845. We like how passage directly states that Monadnock is the "core" of the country and "pillar" of the region.
3. Amos Andrew Parker's Mount Monadnock and its Surroundings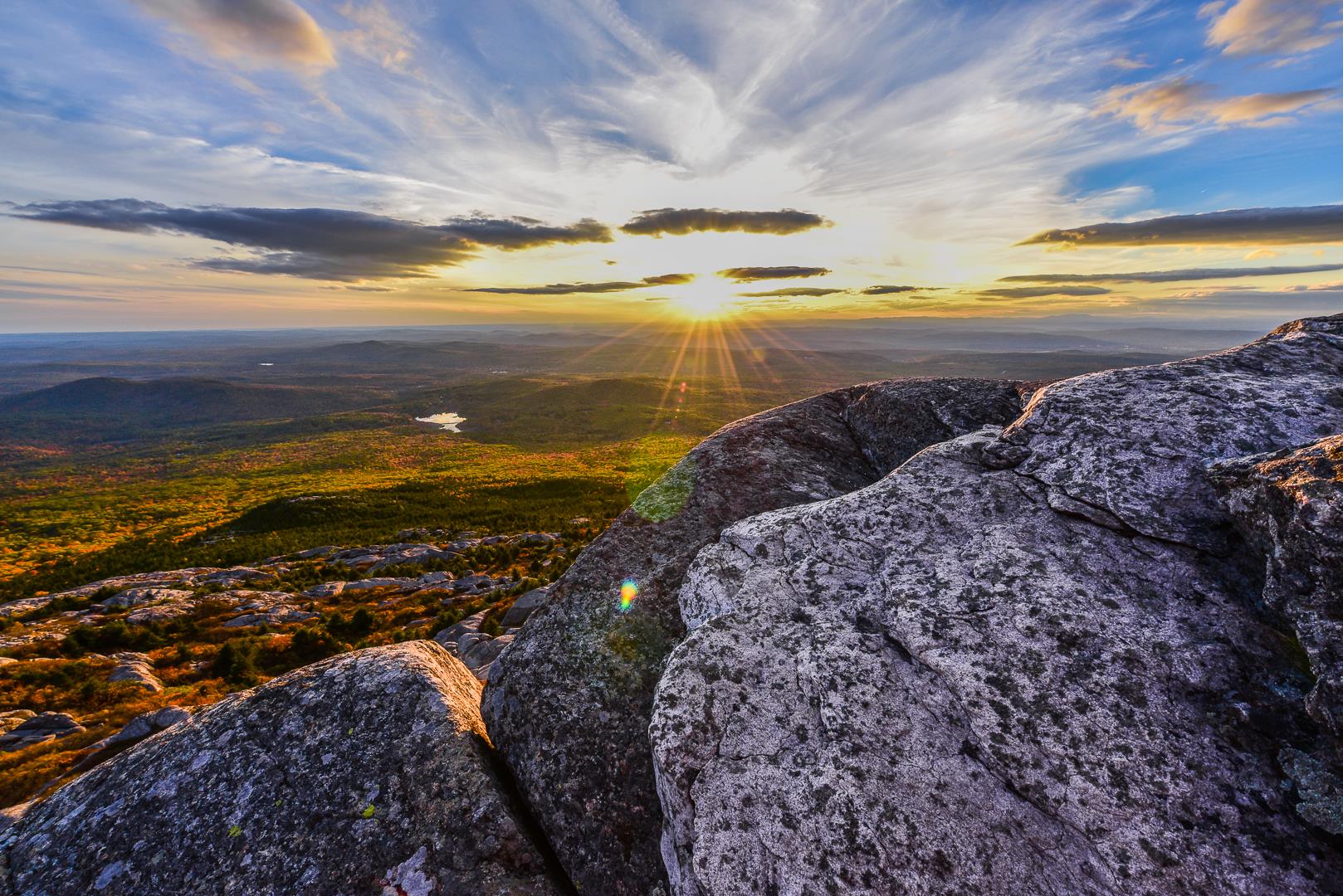 "But mountain, adieu!
No more shall I view
The earth, from the spot where I stand;-
Half century hense,
Some Bard of keen sense
May take a broad glance at the land.
And fully recount
The scenes round the Mount
Made or moulded by human hand;
But this lofty Pile,
Unchanged all the while,
Will still be MONADNOCK the GRAND!"
Though Parker's may not have the same renown as the others on this list, we loved how this piece suggested Mount Monadnock's immortality and timelessness. This passage is part of Parker's longer poem "Mount Monadnock and its Surroundings," which he wrote in 1870.
4. Leonard Bernstein's MacDowell Letter
""All of those times I was writing works which had, at least in intent, a vastness, which were dealing with subjects of astronomical if not mystical and astrological dimension. This vastness is inherent somehow in this place."
Leonard Berstein one of America's greatest composers wrote these sentences in a letter to Marian MacDowell after one of his three stays at the colony in Peterborough, New Hampshire. We loved the simplicity of the statement and its profound assessment of the depth of the region.
5. The Reverend William B.O.'s Monadnock
"And there, as ever steep and clear,
That pyramid of nature springs!
He owns no rival turret near,
No sovereign but the King of Kings.
While many a nation hath passed by,
And many an age, unknown in story,
His walls and battlements on high
He rears, in melancholy glory."
This final passage by The Reverend William B. O. in his poem also titled, "Monadnock," captures Mount Monadnock in a beautifully regal way. We liked how the passage was able to how the mountain has both power and prestige as a stand alone monadnock.