As one of New Hampshire's oldest towns (founded in 1737), Peterborough, NH is chalk full of history. In spite of its rich heritage, Peterborough as been able to maintain its quaint small town feel, punctuated by its luscious forests and beautiful scenery.
Famously, the town is home to The MacDowell Colony, an artists village that has been host to many of the nation's most notable creative minds. Many MacDowell fellows profess what every local knows about Peterborough: it is the ideal location to experience culture and the arts as well as find inspiration in its beautiful country side.
Here are some of the best things to do if you are lucky enough to find yourself in Peterborough:
1. The Peterborough Players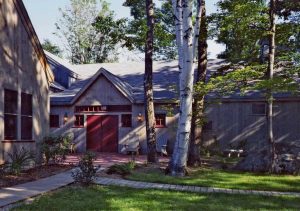 The Peterborough Players are a professional theatre company based in Peterborough. They perform 7 Main Stage shows each season that run from late June through September and also have a Second Company that performs two shows for children. As one of the premier theatres in New England, The Peterborough Players tend to get many of the regions top actors and directors to participate in the performances. The theatre has such repute that Thorton Wilder picked it for one of"Our Town" earliest performances, which he attended.
The Peterborough Players were founded in 1933, by Edith Bond Stearns. At the time of purchase, the theatre had no electricity or running water. Stearns was not discouraged by the lack of amenities though and quickly established the cozy 250 seat theater in an 18th century barn.
2.The Sharon Arts Center
The Sharon Arts Center is one of New Hampshire's most distinguished art institutes.  Though small in size, the arts center is large in stature, hosting multiple national exhibits every year. Located right in the middle of Peterborough, the arts center is easy to find and an enjoyable trip for everyone in the group. With the ability to buy many of the pieces there, the trip can become a great way to experience art and bring it home!
In 1947, art lovers William L. and Ruth Crary Young established a center for artists and artisans to study their skills in Sharon NH. The Sharon Shop and School were based in Sharon until 1999 when the opportunity to move to Peterborough arose. The non-profit quickly seized up the opportunity and has since been a cornerstone of the great New Hampshire town.
3. Depot Square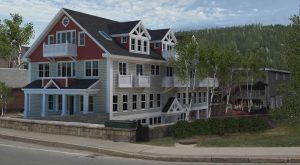 Depot Square is the picturesque  grouping of stores, cafes and restaurants right in the center of Peterborough just off Main street. The square has 14 different shops and restaurants as well as the Sharon Arts Center mentioned above.  From the serene Toadstool Bookstore to four different eclectic clothing boutiques, to the specialty card shop Paper & Roses to one of the finest jewelry shops in the area, Hobbs Jewelers  there is something for everyone at Depot Square.
Depot Square is also home to Waterhouse Restaurant & Bar a beautiful modern restaurant that sits right on one of Peterborough's many streams. In the mood for a more tranquil eatery? Well Depot Square also has Twelve Pine Gourmet Cafe & Market which is a great place to stop if you are looking for a coffee, a quick bite or a great souvenir to take home. Simply, no matter what you're in the mood for Depot Square has it and has it with the sort of small town local feel that makes visitors move to Hillsborough county's favorite town.
4. Mariposa Museum &World Culture Center
The Mariposa Museum & World Culture Center is a "hands-on" museum that houses artifacts from around the world. The museum is located in the historic Baptist Church Building right in the center of Peterborough. The museum hosts immersive regional exhibits, performances and programs. The Mariposa Museum is famous for its interactive exhibits which allow visitors to pick up, touch and play with the all sorts of artifacts and figures.
The Mariposa Museum's history dates back to 1822, when fifteen people in the area joined to form the Baptist congregation. After growing to a 100 people, the group built the new iconic church at 26 Main Street, where it still stands today. Then in 2001 after a fire destroyed the interior of the building, David Blair and Linda Marsella bought the building and formed the Mariposa Museum, which opened in 2002.
5. Vicuna Chocolate
Vicuna Chocolate  is the only artisan bean to bar chocolate factory & cafe in New Hampshire. Bean to bar means that the founder Neely Cohen, a Food Network's Sweet Genius winner, processes the cacao beans into chocolate right there in the shop, which means that you get to see an interesting technical process coupled with eating delicious treats. What a great way to spend an afternoon!
Vicuna Chocolate was founded in 2014 after Neely Cohen had traveled the world learning her craft. In 2011, Cohen spent six months harvesting and roasting cacao in the Amazon jungle while teaching locals how to do the same thing. While she was looking for a location to open a shop, mostly in the Cambridge Massachusetts area, she stumbled upon her current space in her home town and has been making chocolate there ever since.
6. Mount Monadnock
Mount Monadnock is a trip that everyone needs to make at least once in their life. The Grand Monadnock as its more formally known is the most climbed mountain in all of America, for good reason. At just over 3000 ft, Monadnock is a relatively easy climb, culminating in an unrivaled view.
The term "monadnock" is used to refer to a mountain that stands above all of the other peaks in the area. As a monadnock, Mount Monadnock's view is pristine and beautiful. It's a climb that everyone can get behind and a great overall time. To find out more about trails and weather check here: http://monadnocktrails.com/.
And remember to hike safely!