Dublin NH, the home of the famous Yankee Magazine and Dublin Lake, is one of the regions most scenic and welcoming towns. Dublin was founded in 1749 when the Masonian proprietors granted the town as Monadnock number 3 to Matthew Thornton and a group of nearly 40 others. The town, though, would not be permanently settled for another 11 years as the French and Indian War kept settlers from establishing themselves. People stared to move from Peterborough to Dublin starting in the 1760s and the town was finally incorporated in 1771 by Governor John Wentworth.
When you find yourself near Dublin NH make sure you stop in and do these 6 great things:
1. Delrossi's Trattoria
Delrossi's Trattoria is a quaint full service Italian restaurant in the heart of Dublin NH. Delrossi's makes their own delicious homemade pasta that is well worth the trip. The venue itself is impressive, too, a 1789 Georgian Colonial, 18-room farmhouse originally built by Francis Appleton. The restaurant still has the old Georgian Colonial farmhouse charm, restored by the current owners in 1987. With such great food and a one of kind atmosphere, Delrossi's Trattoria is a must stop for dinner Tuesday through Sunday.
2. Friendly Farm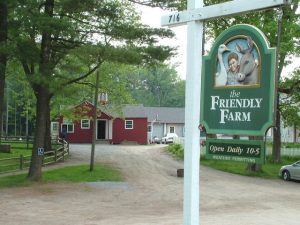 Friendly Farm is one of the most animal packed petting zoos you'll ever find. With over 5 acres of sprawling pastures, well-maintained paddocks and of course fenced in areas for the animals, the farm has a lot to offer especially for the young children. The farm has been open since 1965 when Allen Fox founded it. The family's experience (Bruce Fox his son now operates it) shows with just how amiable and friendly all of the animals are. The farm has rabbits, pigs, chickens, goats, peacocks and much more. Make sure you stop in and get to know some animals at Friendly Farm during your trip to Dublin NH.
3. Hedge House
Hedge House is an antique store that specailizes in Fenton Art Glass, the renown, colorful and handmade glass art.  The shop, which has consistently, made The Fenton Fold Showcase Dealer list, may very well have the largest and finest collection of Fenton Art Glass in New England. Since it was built in 1981, the store has had to expand twice to over 1800 square feet to house the large collection. If glass or art is your interest, make sure you stop in to Hedge House but beware that the shop is closed from January till May.
4. Peter Pap Oriental Rugs
Peter Pap Oriental Rugs is one of two of Peter Pap, the heralded expert in antique oriental rugs, carpets and weavings, galleries. Pap, who has been covered in the Wall Street Journal, The Boston Globe, The New York times and many others and who is a guest appraised on PBS's Antique Road Show, personally guarantees the quality, age and aesthetic fit of every rug. As Pap points out, every rug has a story about the maker, the topography of the land and the eye of the artist. Sure to be a great visit of nearly museum quality, Peter Pap Oriental Rugs is well worth a stop in on your trip through Dublin NH.
5. Morning Star Maple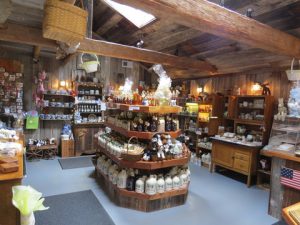 Morning Star Maple: Sugar House & Gift Shop is a scrumptious maple house right on Main Street in Dublin NH. The family owned business that was founded in 1988 taps all of its own trees just outside their shop. This means that the syrup in their gift shop is guaranteed to be the highest quality. If syrup isn't your favorite, Morning Star always maple sugar, candy, cream, granola and fresh fudge, jellies and honey. With such a large selection, Morning Star is one place you simply must visit on your way through Dublin NH.
6. Dublin Village Historical District
As you travel through Dublin NH, you'll want to note the Dublin Village Historical District. The scenic village includes the town's Main Street, village center, "Old Common" and their immediate environs and contains over 60 beautifully constructed, historic buildings. Most of the buildings in the district are either Georgia or Greek Revival Style, which means that many of the houses look great next to each other. With so many amazing buildings to see, make sure you go to the website above to make sure you see all of it on your trip through Dublin NH.