NICOLE S. COLSON
If there is an organization in the Monadnock Region that is purely of the community and for the community, it's MAXT Makerspace in Peterborough. 
When Peterborough native Roy Schlieben moved back to his hometown nearly a decade ago, he joined a committee exploring the idea of opening a makerspace there.
A makerspace is a collaborative work space tailor-made for the community who will use it. They are for making, learning, exploring and sharing, normally for entrepreneurs but really a makerspace is for everyone to use.
He'd seen the impact one could have on a community, as his brother-in-law started his business in one of the original such spaces in Somerville, Mass.
The idea for what would become MAXT Makerspace was conceived, as it reads on the organization's website, "in basements, event halls and board rooms" by community volunteers throughout 2014-2015. The idea was simple, it goes on: people in the region were creative and talented but needed affordable resources. A rural makerspace has to be very open to the community and understanding specific needs.
MAXT Makerspace forms in Peterborough
In the Peterborough area, there is a wealth of artists as well as retirees.
At that time, a group known as the Monadnock Makers formed to host events and workshops, visit other spaces, and conduct surveys to learn more.
A board came together and appointed Schlieben as MAXT Makerspace's executive director.
After a couple more months, the organization achieved nonprofit status. After a year, MAXT signed a lease on a space and began collecting donations. 
The makerspace is financed mostly by memberships (it is under $50 a month for a basic membership), studio rental and workshop fees.
Founded in 2016, the organization grew from having four members its first year to well over 100 and moved from a 1,600- to a 10,000-square-foot space on Vose Farm Road in 2018. 
The makerspace offers useful resources
Part of the current space at MAXT is dedicated to sewing, screen printing and weaving endeavors. There are also sections for work on electronics, jewelry-making and textiles. 
Additional areas have equipment such as a laser/vinyl cutter, printing press and 3D printer for artists. Plus, the makerspace provides 1,000 square feet of open office space with additional offices for members to rent. A wood and metal work/welding shop is another resource.
MAXT Makerspace also offers an array of activities, including a "repair cafe," which is a fix-it club modeled after another in New York City. Continuing education workshops focus on different shop areas. A business accelerator program provides mentorship, space and resources for startups. Entrepreneurs are then able to launch products on-site or in their own space. All mentors and workshop leaders are volunteers. Additional services include a workforce training program in welding for high school students and adults. Notably, the program helps them earn nationwide certification.
MAXT opens a community ceramics center
Some rural makerspaces also fill a gap in the community.
That is how the Sharing Arts Community Ceramics Center came to be. The center, which opened last year at Dublin Village Park, provides affordable access to pottery equipment and a space to take classes with some of the region's most accomplished ceramicists.
Under the umbrella of Sharing Arts, the makerspace program is an effort to rebuild the creative community once housed at Sharon Arts Center. The Ceramics Center provides a place for anyone interested in the arts to teach, learn, access tools and equipment and display work. This is a similar structure to the makerspace itself.
Schlieben credits art director Kimberly Kersey-Asbury as being instrumental in creating new programming, launching the ceramics center and connecting the makerspace to new instructors.
"She's a huge advocate for us," he said.
MAXT also launched a successful night market in Peterborough's Depot Square. The event features all sorts of artists in the region, from musicians to visual and circus artists.
Diverse makers enjoy access to MAXT
The makerspace's welcoming environment begins with the building itself.
"It's accessible to those of all (physical) abilities," said Schlieben.
For age group accessibility, the makerspace reaches out to young people to encourage and inspire them to be creative outside the school day.
"We have a discount program that provides them 90 percent off programming," said Schlieben.
Providing access for all in need is always a goal for MAXT Makerspace.
"They are often the hardest to reach," said Schlieben, adding the makerspace works with community resource partners. The River Center, a family resource center that offers services to lower-income populations (as well as other nonprofit organizations) has access to discounted programming.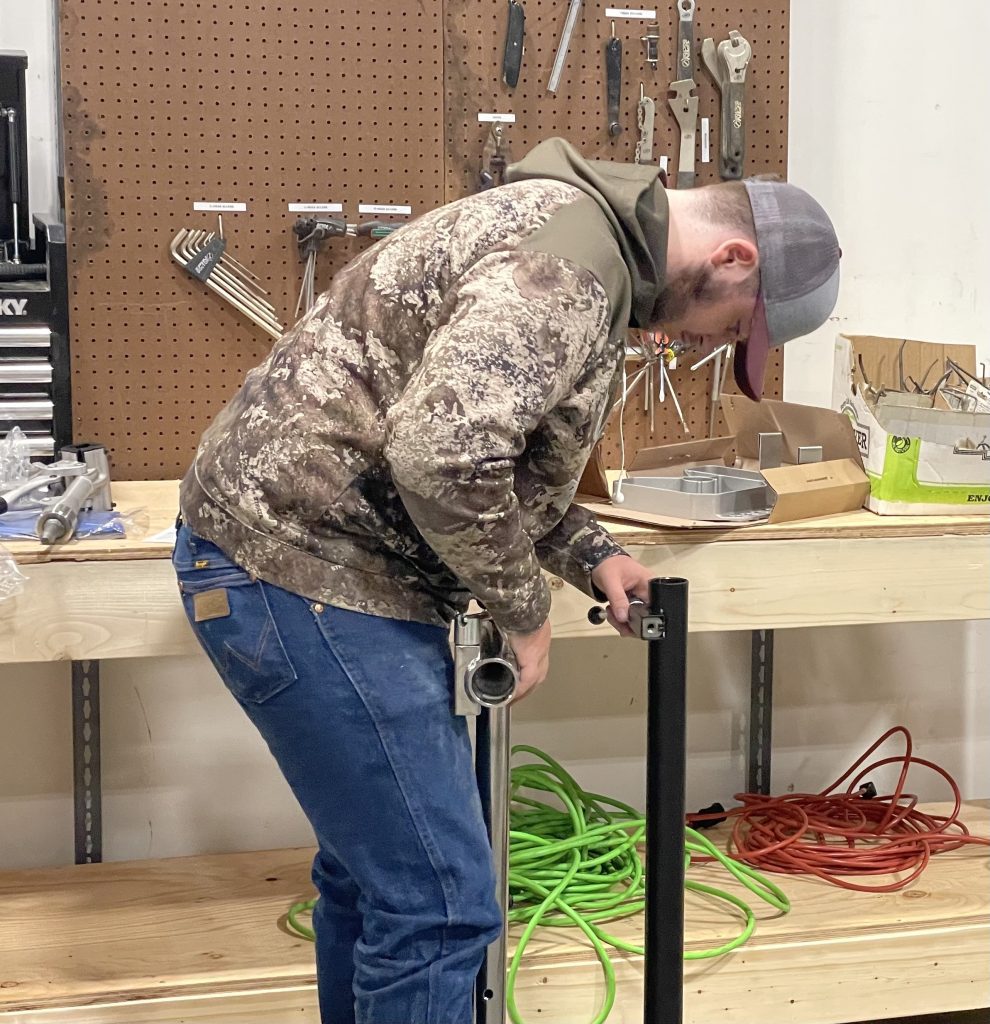 Tracking these user groups is an ongoing effort.
"We collect information about everyone who uses the space and takes classes," said Schlieben. The organization also maintains active social media accounts and a newsletter.
"A lot of programming is geared toward beginners," said Schlieben. "We want to inspire people to create even if they don't consider themselves artists. We believe it's an important part of being human, especially in a communal setting. It's a very nurturing and wonderful experience to take part in."
For more information about MAXT Makerspace, visit maxtmakerspace.org 
For more information about the Arts Access Project: opening doors to the arts, visit Arts Access project and resources.