Coffeehouses have been part of the American scene since the 1950's, serving up music, beverages and light fare, conversation, and a welcoming place to meet up with friends and neighbors. Coffeehouses are part of the music scene in the Monadnock region as well – some with open mic format; others with scheduled acts. Here are four that operate in non-commercial venues on weekends, where you can hear local music and munch on some home-made goods, at a very affordable price:
Parish Hall Open Stage Coffeehouses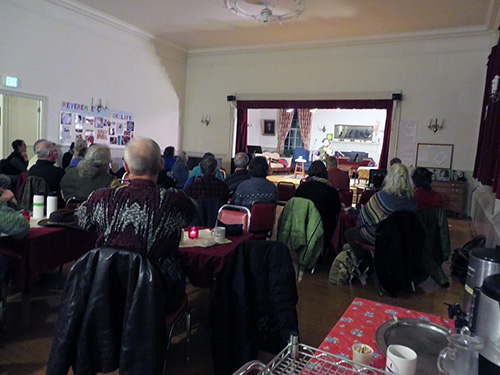 For the past six years, Parish Hall Open Stage has been hosting musicians at the Unitarian Universalist Church in downtown Peterborough. Held on the first Friday of non-summer months, the Open Stage has hosted as many as 18 acts in a single night. Each month there is a featured artist, and the next two months feature some of the most raved about acoustic acts in the region. On April 1, The Kingsnakes play blues, ragtime and popular music from the 1920's-1940's, laced with humorous commentary from the band. Then on May 6, the seven piece cabaret group Fuzzy Logic brings their imaginative and thought provoking take on life through the eyes of the band's composer and lyricist Michael Cohen. The music begins at 7:30 with a suggested donation of $5.00. There is a generous assortment of baked goods and beverages, bring a few extra dollars to drop in the donation jar. What else is happening in Peterborough? Check out our blog on 6 Fun things to do in Peterborough.
Meeting House Stage Coffeehouses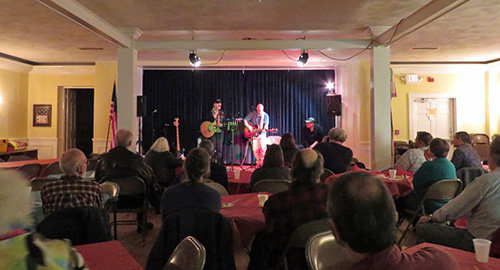 Held at the Meetinghouse on the Common in Rindge, this Open Mic is held all year long, typically on the second Friday of the month (July and October are the exceptions, check website for details). A suggested donation of $5.00 goes to support the Rindge Historical Society, and the music goes from 7 -10, which includes a thirty minute set by a featured artist. April 8 features Cooper & Kenneally, a northern Massachusetts duo who performs roots, folk-rock, rockabilly, country and blues. On May 13, Andy and Judy perform covers of folk favorites as well as their own original songs. Bring your appetite to the Meetinghouse Stage; organizers and regulars bring crockpots of soups, stews, and casseroles, as well as side dishes and desserts to share for a requested additional donation. What else is happening in Rindge? Check out our blog on the Top 5 things to do in Rindge.
The Open Door Coffeehouses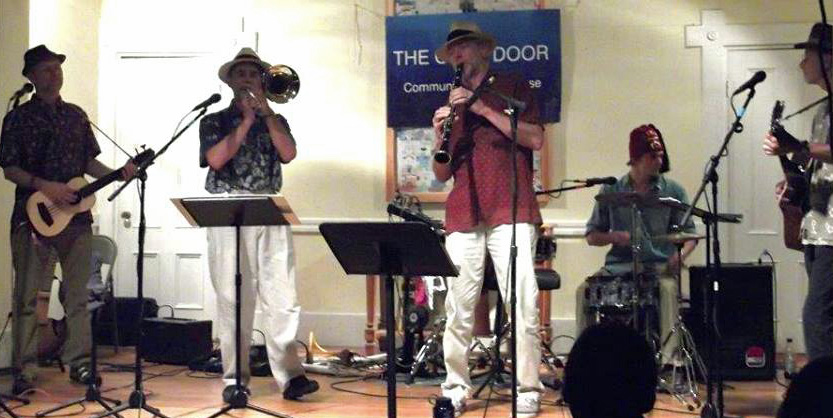 On the northeast side of the region, Smith Church in Hillsborough is home to The Open Door on the first Saturday of each month. About six acts are scheduled for 15 minute slots, with a featured artist performing a half hour set. Each month opens with a set by The Bible Hill Boys. Suggested donation is $5.00, and desserts, coffee, and tea are always available to everyone at no charge. On April 2, the aforementioned Kingsnakes, a quintet from Antrim, return to The Open Door for a wild and entertaining set. Craig Webb; guitarist, vocalist and local favorite, will be the feature on May 7. The music begins at 7:00.
Living Room Coffeehouses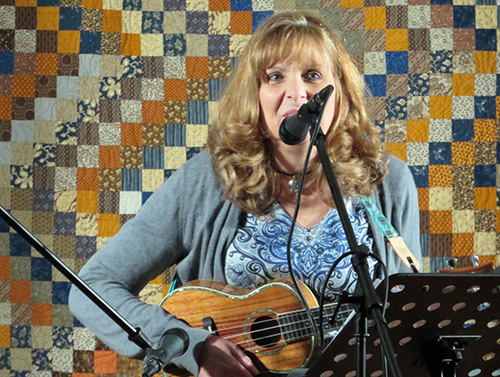 On the third Saturday of non-summer months, the Living Room Coffee House is held in the Fellowship Hall at the Congregational Church in Mason. For a $5.00 donation, you get admission and snacks, which include beverages, popcorn, and baked goods. Doors open at 6:30, and the music begins at 7:00. There is a featured artist each month who performs for about half an hour at 8:00. Lisa Greenleaf, who performs at open mics around the region, brings her ukulele and favorite contemporary, folk, and country tunes on April 16. Dan and Ken Durand return to the Living Room on May 21. Performing together for more than three decades, the popular duo is known for their wide repertoire of music and the fun they bring to their audiences.
This article was contributed by by Lynn Merlone of Monadnotes. Learn more about the vibrant music scene in the Monadnock region at www.Monadnotes.com