It's a humble, unassuming community rich in nature and industry. Situated at the southwestern edge of the Monadnock region, Hinsdale is a town worth exploring no matter if you're in the mood to meander around its quaint downtown, hike to scenic vistas, seek out historical markers, attend the summer farmer's market, are considering relocating a business, or simply want to try samples at the deliciously competitive annual chili cook off.
Dominated by steep valleys that contain the flowing waters of the Ashuelot and Connecticut Rivers, Hinsdale borders Pisgah State Park to its east and Wantastiquet State Park to its north. It is a perfect destination for anyone wishing to partake in the array of year round outdoor activities the town provides, including, camping, hiking, fishing, boating, snowmobiling, and cross country skiing (try the Kilburn Loop).
Have a passion for colonial or Native American history? Hinsdale has a unique collection of arrowheads, some dating back around 3,500 years. In addition, guests are welcome to visit the beautifully restored Ebenezer Hinsdale House and partake in community events frequently held at this historical landmark.
This unique blend of history, nature, artistry and pro-industry development makes Hinsdale, New Hampshire a Monadnock region community worthy of a day trip, camping vacation or perhaps attend a workshop at a renowned art studio.
Notable Historical Markers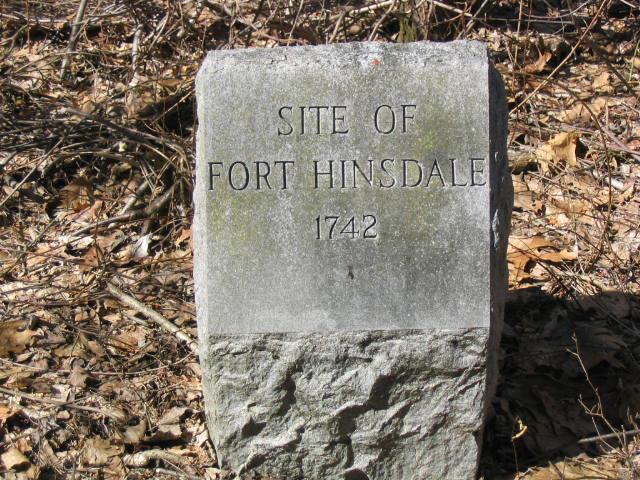 Along with the notoriety of having the oldest commissioned U.S. Post Office in the country, it houses the granite stone marker bearing the inscription Fort Hinsdale. Named for Ebenezer Hinsdale, the man for whom the town is named, was a leading figure in the region during the pre-revolutionary period. Born to a prominent family in Deerfield, MA, he served as a officer in the French and Indian Wars, and eventually built Fort Hinsdale (along with a gristmill) to protect local settlers from Indian attacks. The marker sits on the 37 acres Ebenezer Hinsdale House property.
Located on the edge of a parking lot on the south side of Route 119, about .2 mile east of its junction with northbound Route 63, is a quiet historical point of interest that was part of the automobile revolution. Hinsdale's Auto Pioneer Marker reads: "In the Holman & Merriman Machine Shop opposite this location, George A. Long (of Northfield Mass.) in 1875 built a steam-propelled four wheel automobile with a fifth wheel for steering. This vehicle, fired by hardwood charcoal, had a bicycle-type frame, ordinary wooden wheels, solid rear axle and could maintain 30 miles per hour, roads permitting. This early inventor patented and built another automobile, propelled by gasoline, now in the Smithsonian Institution."
Woods Less Traveled
Designated trails abound for walking, hiking, cross country skiing, ATVs, snowmobiles and mountain biking in and around New Hampshire's Pisgah State Park, which is just 4 miles from the Hinsdale Campground at Thicket Hill Village. The 13,500 acre Park, the largest in New Hampshire, offers a bounty of well-maintained trails – with the westernmost 690 acres of the park being located in Hinsdale. It's trailheads and scenic vistas, such as the Kilburn Trailhead, traverse the natural landscape to Bear Mountain State Forest. Part of the Monadnock Greenway Trail, both Pisgah State Park and Wantastiquet State Forest provide daytrippers or thru hikers access to acres of pristine conservation in which to exercise, explore and enjoy hours of peaceful solitude. The Wantastiquet Mountain Natural Area including Daniels Mtn Loop, Daniels Trail and the Town Line Loop along the border of Hinsdale and Chesterfield make perfect day hikes for individuals and families alike.
Handcrafted & Wearable Art
Located on a 55-acre farm in Hinsdale, Wingate Studio produces and publishes printed editions, books, and special projects in collaboration with contemporary artists. The company specialize in intaglio etching and offer the skilled craftsmanship of master printmakers, with an openness to exploration and innovation within and beyond the traditional process. Founded in 1985 by Peter Pettengill after he became a master printer at Crown Point Press. today artists invited to collaborate on projects at the studio are provided with a private guest room and nourishing meals made with ingredients from Wingate Farm. A limited number of studio apprenticeships are offered annually.
From contemporary paper to silver and gold, Hinsdale is also home to artist David Nuget of Evensong Jewelry. Nuget has been creating contemporary jewelry since the mid 1970s and these days he creates in his studio near the Connecticut River. He credits the quiet country setting as being ideal for reflection and the evocation of art. With handcrafted designs are realized in karat gold (14K and 18K in colors of yellow, white and rose) and Sterling silver, with precious and semiprecious stones often included, each piece is handcrafted from the creation of original pieces right through all the casting, fabrication and finishing phases. Limited or multiple duplications of each design are subsequently possible and are done entirely in studio by this artist.