The Discover Monadnock arts and cultural calendar has several broad arts categories. These make your favorite types of events easier to find! Search for dance, music, comedy, theatre, spoken & written word, nature, film, and more. For those who enjoy all the arts but prefer to stay close to home, filtering by town is also possible. All of New Hampshire's Monadnock region towns are represented. A few of our Vermont neighbors also have listings – especially Brattleboro's unique, quirky, creative scene!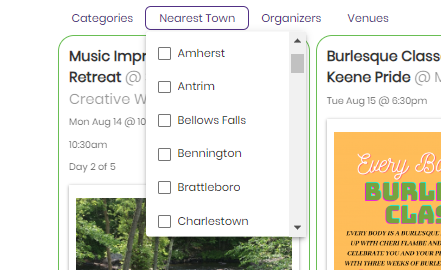 Free events on the calendar
The calendar's featured category is "Free Events." Find it in the drop down menu emphasized with a green dot. While these happenings are completely free of charge, some may suggest a donation. Maybe you're a student, a senior, or have kids to entertain. In any case, explore fairs and festivals or have a sip of wine at a gallery opening! Listen to authors present their newest releases on a myriad of interesting subjects. Lie back on the grass in the summer to enjoy an evening film screening, or gets your boots on and go for a community hike!
If you're a music lover, check out the music category and look out for headlines in green. In the same fashion, dance and theatre lovers can stay up to date on local free performances! Whatever your fancy, the Discover Monadnock Calendar highlights these financially accessible gems for the community.
The Arts Access Project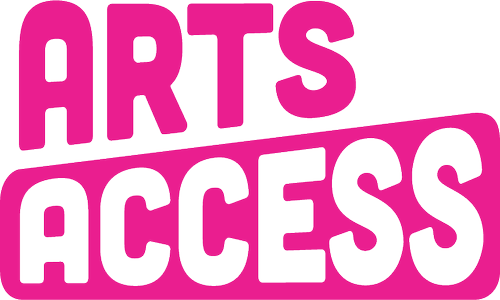 Discover Monadnock is part of Arts Alive: a nonprofit with a mission to support, grow, and connect a sustainable arts landscape in the Monadnock Region. For this reason, Arts Alive's Artist Spotlight blog series highlights arts organizations and initiatives breaking barriers to accessing the arts. Many of these organizations have their events listed on our calendar. Check out our blogs on MoCo Arts, Electric Earth Concerts, the New Hampshire Dance Institute, and 17ROX, among others!
The Artist Spotlight series is a part of the Arts Access Project. During the pandemic, Arts Alive gathered data on the relationship between arts and health. Significantly, this information helps local arts organizations better serve their communities.