Antrim NH is a majestic town on the northern tip of the Monadnock Region. Antrim was originally founded i n 1777, named after County Antrim in nothern Ireland, where the land's owner, Philip Riley hailed from. The town would quickly grow around the Great Brook which provided water power for over 20 mills, which made predominately apple-paring machines and other cutlery.
Antrim like many of the towns in the region has a charming cross between natural beauty and 18th and 19th century buildings which create a tranquil and historic atmosphere. This means that Antrim is one town that you must be sure to visit when you come to the Monandnock Region. When you do, make sure you do these 7 things:
1. Tenney Farm
Tenney Farm is a farm stand and ice cream parlor in the heart of Antrim, NH. As a local farm, Tenney offers different products throughout the seasons. Starting in the spring, Tenney sells flowers and hanging baskets. As the summer continues, Tenney offers a wide array of fruits and vegetables, grown just feet from where you buy them. In the fall, they offer pumpkins, squash and apple cider, before opening up their space to sell Christmas trees as December approaches. All year around, Tenney sells ice cream, pottery and local crafts. With such much variety, Tenney is a place you must top in at on your way through Antrim, NH.
2. McCabe Forest
McCabe Forest is an almost 200 acre nature conservation that is perfect for a quick mid day hike or picnic. The Forest includes two miles of hiking trails that wind through upland pine-oak-hemlock forests, fields, old orchards, and silver maple floodplain forest along the Contoocook River.  The terrain is relatively flat, ideal for a calm stroll through the woods. The trail gives direct access to two different banks of the warm water river, perfect for fishing. The forest which was donated by Dorothy McCabe in 1982 makes for a great location to take in the natural beauty of Antrim, NH.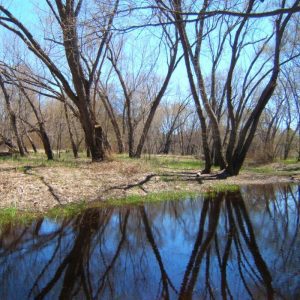 3. Antrim Historical Society
As such an old and prominent town, Antrim, NH is brimming with historical information and artifacts many of which can be found at The Antrim Historical Society. In 1983 the town voted to create the Historical Society which is run by volunteers out of the top floor of the town's  James A. Tuttle Library. The society puts on three major events each year. On the 4th of July, the society holds a reading of the Declaration of  Independence with tons of sweets and treats. In September they hold an apple crisp social at the Maplehurst Inn. And in December they hold the Festival of Trees, an imaginative display of trees and wreaths of every possible design.
4. Rick & Diane's Brick Oven Pizzeria
Rick & Diane's Brick Oven Pizzeria is a scrumptious eatery, with some of the best pizza around hand-tossed and cooked in the pizzeria's beehive brick oven.  Rick & Diane's is open every day except Monday and is the perfect place to stop in and grab a bite while traveling through Antrim NH. This local business has an interesting story of how it came to be. Rick Davis, in 1997, went to Antrim to do a carpentry job, after recently loosing his own business. He drove by a decrepit building next to Town Hall and thought it might make a good location for a pizzeria.
Rick quickly set up a meeting with the realtor and found that inside was even worse than outside. The risks were high, a decrepit building with damaged equipment, high rent and no guarantee that the town would support the establishment. Still, Rick pressed forward with the help of his wife, Diane, and put his carpentry skills to work. The duo has since established a wonderful place to eat in the center of town that you can't afford to miss.
5. The Uplands Inn
After such a busy day in Antrim NH, you'll need a place to stay the night and there is no better place for it than The Uplands Inn.  The inn is a beautiful 1842 farmhouse that will provide you with all the relaxation and amenities you could possibly want. The entire inn can be rented out if you have a large group that you need to entertain and of course they have the standard room rentals. The gorgeous bed and breakfast just two miles from Gregg Lake would make for a relaxing final stop on your trip to Antrim NH.
6. Town Hall Murals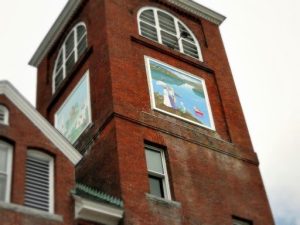 The town of Antrim NH undertook an incredibly interesting artistic endeavor in 1994. That year, the town decided to decorate the four walls of the Town Hall's clock tower with murals. This meant that the artists had to create 8 foot tall billboards in the middle of winter. Eventually, the crew was able to use the fire station as a space to enlarge the paintings onto plywood. Once finished, two public services crews mounted the murals on the tower, which you can see to the left. These murals are a must see on your trip through Antrim, NH.
7. Visit an Art Studio
Antrim NH is a filled with artists, who are inspired by the town's natural beauty. There are three studios in the town: Old Slaughter Barn Studio, Sunrise Studios, Three Dot Pottery as as well as individual painters, Barbara Shea and Robin Lord-Cook. If you are looking for a piece of art work or interested in soaking up the local creative atmposhere make sure to reach out to a one or all of them. There details can be found here under artists and painters.