The Jaffrey Civic Center is very pleased to announce the third exhibit in a series showcasing the work of local young artists under the age of 30. Andrea Cornelius will be exhibiting a mixed media exhibit at the Civic Center beginning Friday, May 27th through June 25th in the ground floor Auditorium Gallery. An Opening Reception for her show will be held on Friday, May 27th  from 5-7pm.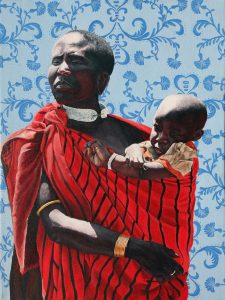 Andrea Cornelius is a senior and Advanced Placement art student at Byram Hills High School in Armonk, NY.  She has been a summertime visitor or resident in Jaffrey her entire life.  This fall, Andrea will be attending Colgate University with plans to study biochemistry (as a foundation for possible graduate study in forensic science) as well as studio art.  She is also an accomplished musician, having played trumpet in the New York All-State Orchestra in addition to her high school Wind Symphony and Jazz Band.
As this exhibit demonstrates, Andrea has enjoyed experimenting with a broad variety of media, including graphite, pen and ink, acrylics, pastels, watercolor, charcoal, printmaking, and photography.  She has also designed logos, T-shirts and tattoos, as well as fingernail art.  She draws inspiration for some of her subject matter from her many travels with her family, including Africa, Europe, South America, the Arctic, Florida, and yes, New Hampshire.  Andrea appreciates the Jaffrey Civic Center's willingness to let her share her work, and sincerely hopes you enjoy the exhibit. She has previously exhibited her work in the Armonk Outdoor Art Show in both 2014 and 2015, the Katonah Art Museum Student Exhibit in 2016 and has received 5 National Scholastic Art Awards.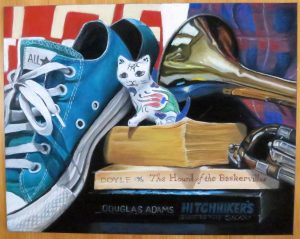 The Jaffrey Civic Center is located at 40 Main Street, Jaffrey, New Hampshire, next to Library,
parking in rear. Hours are Monday through Friday, 10 am- 12 noon, 1 pm to 5 pm and Sat 10-2. Admission is always free.
For more information about us, call 603-532-6527, e-mail us at info@jaffreyciviccenter.com
find our website, www.jaffreyciviccenter.com, or "Like" us on Facebook.