The Monadnock region is blessed to have so many talented artists, craftsmen, writers and creative souls living within its borders. Our region's beauty has acted as the inspiration for works from Transcendentalist writers like Ralph Waldo Emerson to famous composers like Leonard Bernstein and many many more in between.
Those lucky enough to live in the Monadnock region get to experience the tranquil beauty daily that many Macdowell fellows travel hundreds of miles to be a part of for a few months. We wanted to showcase the work and revel in the talents of these artists who live in the area and are continually inspired by it.
So we have put together a new sort of post to feature these artists. This is the first of hopefully many. Here's our list of three featured artists for May:
Here's our list of three featured artists for May:
1. Craig Altobello
Craig Altobello is a local wood working artist that specializes in marquetry or the craft of applying pieces of veneer to a structure to make a work of art. Craig was introduced to wood working in 1978 during a workshop put on by the renown wooden furniture craftsmen, Thomas Moser. After the workshop, Craig began to make furniture for his friends and families and attend other wooden furniture workshops to further grow his knowledge base about the craft.
As a middle school science teacher, Craig had his students document their nature explorations by creating collages. As Craig continued to work on his furniture he became interested in bringing the concept of these collages to his woodworking by using the intricate colors and patterns in the wood. This new direction led Craig to marquetry. He then traveled to the College of the Redwoods to study his new craft.
To create his work, Craig saws wood into 1/16" inch thick slices. He takes the design's drawing and ports it from sketch paper to tracing paper, traces the design on the wood and cuts it out. Some of the wooden inlays are dipped into hot sand to darken their edges and then inserted. Once all of the different inlays are placed, the image is glued to plywood with a hardwood backing. Finally, he applies shellac that he mixes himself to the image.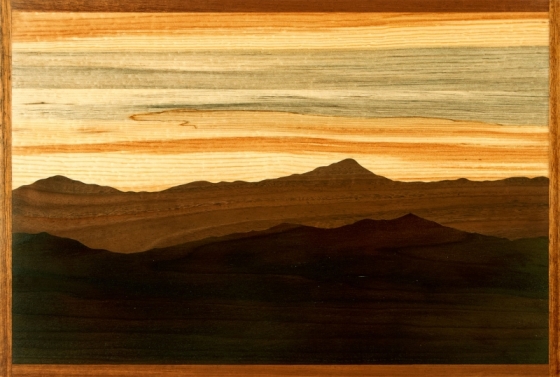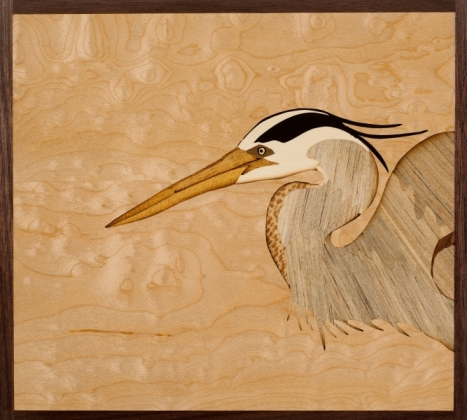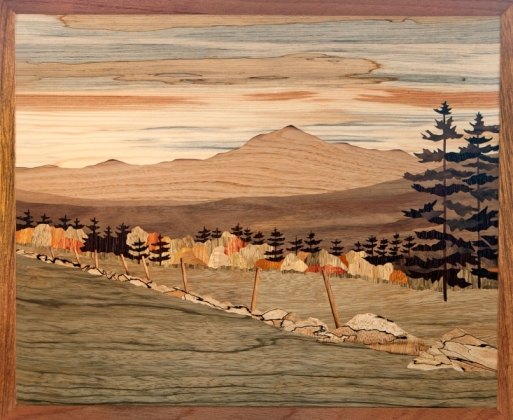 2. David Rheubottom
David Rheubottom is a outstanding black and white image photographer living in Peterborough, New Hampshire. David was born in Michigan and received his undergraduate degree from Michigan State University. He then went on to get his masters from Boston University and his Ph.D from the University of Rochester. He taught social anthropology at Union College, the University of Houston, Johns Hopkins University and the University of Manchester (UK) before retiring to concentrate on his photography. While teaching, David used photography as a way of recording the lives and habits of the people he studied.
David uses a large-format film camera, pictured left, and traditional darkroom techniques because the classic photography techniques force him to think through each step and enables him to have complete creative control. Each print is carefully handmade in his darkroom and then processed for archival permanence. The beauty that this process allows David to capture is simply breathtaking.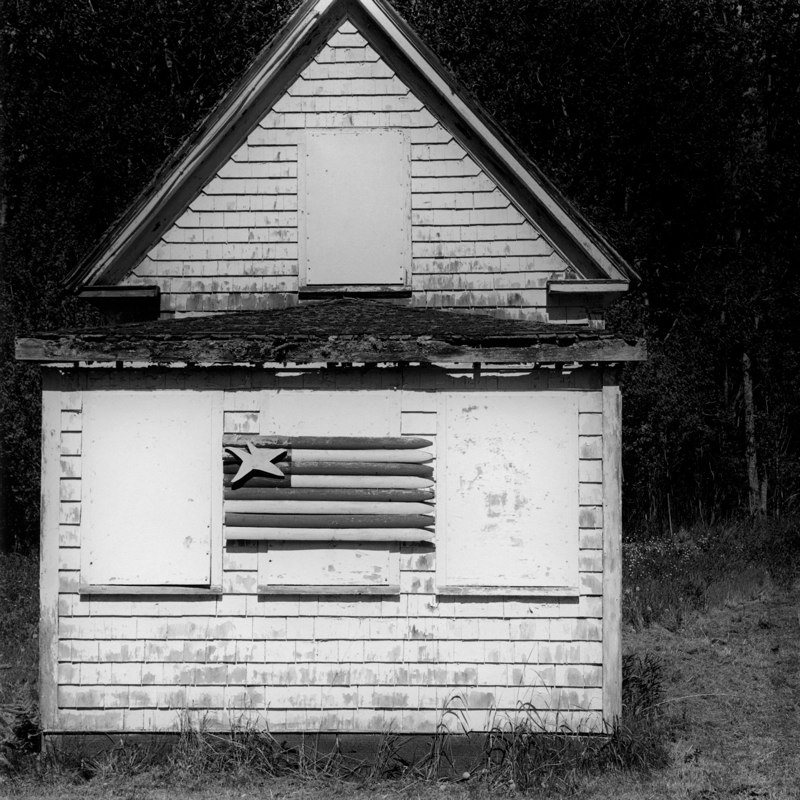 3. Sue Callihan
Sue Callihan is a representational watercolor and oil painter and teacher living in Peterborough, New Hampshire. Sue studied at the University of New Hampshire, Manchester Art Institute and Great River Arts Institute and The Sharon Arts Center.
In her paintings, Sue attempts to capture the unique beauty of the Monadnock region. She tends to pain boggy meadows, spring-flooded fields and marches because they are constantly changing and are greatly affected by natural light.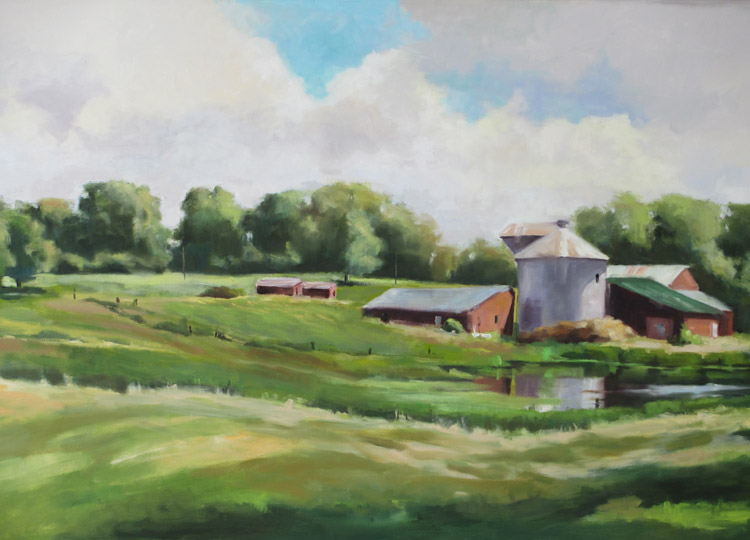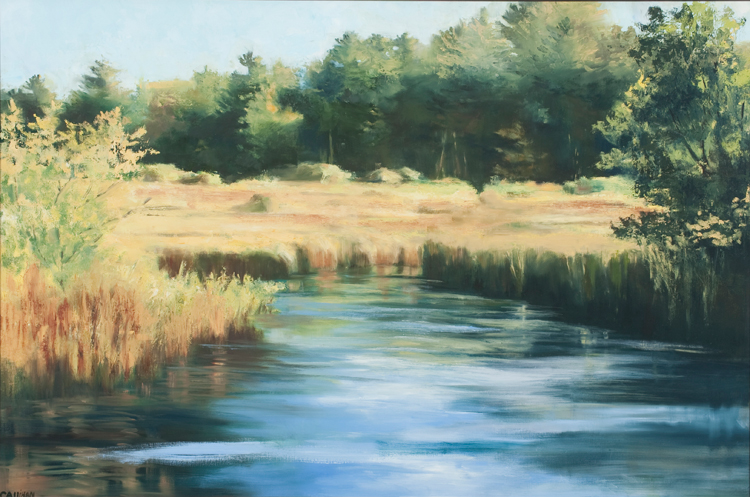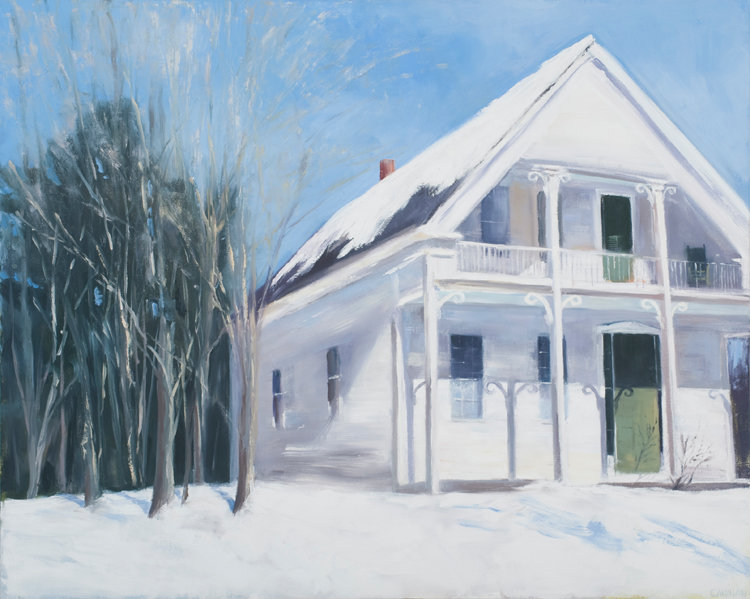 For more on local artists make sure to check out our Arts News Feed and Pinterest page!