Tucked right in the middle of the Monadnock region, sits Marlborough, NH a picturesque small town blessed with scenic views of the area's luscious landscape.  Founded in 1752, the town is still packed with beautiful antique homes. The town grew around its lucrative granite quarries whose stone was shipped down toward Boston.
Marlborough, NH is one of the towns that you simply must visit if you haven't yet. Here's our list of the top six things to do when you go:
1. Kensan Devan Meetinghouse Pond Wildlife Sanctuary
The Kensan Devan Meetinghouse Pond Wildlife Sanctuary is a pristine almost 600 acre plot of land that lies about 4 miles away from Mount Monadnock. The immense sanctuary is packed with a 45 acre pond, dense forests, sprawling wet lands and scattered rock walls, vestiges of the land's previous designation as a pasture.
The sanctuary has slowly accumulated land from over six different land owners to reach its current size. In the early 1990s the New Hampshire Audubon was able to establish a trail system on the land which is well worth hiking across for the tranquil views. The sanctuary is open all year round while the sun is out; so no matter what season you find yourself in Marlborough you can check out the area's beautiful space.
2. Thomas R. Longacre Antiques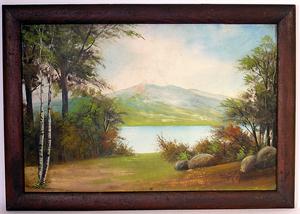 Thomas R. Loncacre Antiques is not your run of the mill antique shop. The forty-three year old shop focuses on local folk art, guaranteeing visitors charming art works that they couldn't find anywhere else. With beautiful paintings like this oil painting of Mt. Chocorua, NH (pictured left), filling their shelves Thomas R. Loncacre Antiques is as much an art gallery as it is an antique store. Add in all of the locally sourced furniture, accessories, textiles and much more and you have a shopping experience worth the drive.
After graduating with his degree in art history in 1971, Tom and his wife Beverly opened the shop, which they run out of their charming 18th century home. Since its opening, Tom has  spent his time discovering, studying and purchasing folk art to display in their galleries.
3. Peep-Willow Farm
Peep-Willow Farm is an alluring 18 acre bed and breakfast and horse farm located just 5 miles from Keene, NH. Peep-Willow proudly breads, raises, and trains competitive thoroughbred horses while keeping its doors open to wondering guests. If you are looking for a place to stay over, Peep-Willow is the perfect spot packed with all sorts of activities like swimming, tennis, hiking, horseback riding, and of course helping with the chores if you are so inclined.
4. Branch River Theatre
Branch River Theatre is a great community theater that puts on at least 3 engaging plays throughout the year. The vivid theater has been "playing around for 25 years" at the Marlborough, NH community house. The Branch River Theatre is great location to take in the local culture and experience the talent that lives in the area for all of those coming through.
At the timing of writing, the theater is putting on the Tony award-winning, Broadway hit, Brighton Beach Memoirs by Neil Simon. The play is the first of a semi-autobiographical trilogy where Eugene Morris Jerome, the character based on Neil Simon himself, narrates and comments on the happenings of his family in 1937 Brighton. Filled with Simon's rich wit that will ensure you laugh heartily and his deep poignancy that will make you feel for the show itself. If you are in the area from May 30th to June 7th, this is a show you simply should not miss!
5. Piedra Fina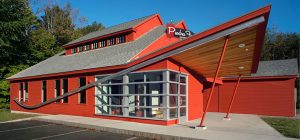 If you are looking for a place to eat while you are in Marlborough, NH look no further than Piedra Fina, a fine latin cuisine restaurant. The casual but well decorated restraint is a great place to grab lunch or dinner or even just stop in for one of their sensational signature drinks. Piedra Fina offers an authentic experience, basing all of their recipes off relatives and friends from the Cuba and Venezuela.
6. The Marlborough House
The Marlborough House is gorgeous plot that you must take in before you leave Marlborough, NH.  Thew newly renovated Victorian Era Gothic Style Catholic church with accompanying yellow house is a great site to round out your trip. Used for all kinds of special events and well lit by the owner's custom lighting flair, the house can been seen at all times of the day.