Just off to the northwest of Peterborough, NH quietly sits Hancock, NH a picturesque town filled with fascinating history and gorgeous buildings. One of the oldest towns in the area, Hancock was first settled in 1764 and then incorporated in 1779, named after Massachusetts's first governor, John Hancock. Interestingly, almost all of the buildings on Hancock's Main Street are registered with National Register of Historic Places, making up the center of Hancock's historical district.
Before you read the list, take a look at this amazing video of the Hancock, NH which highlights some of the beauty you'll see at our #3 Harris Center. Wondering what the lake is? That lake is Nubanusit Lake  a 700 acre lake between Nelson, NH and Hancock, NH that is perfect for boating, kayaking and taking a refreshing swim.
Here's our list of 6 great things to do in this historic town when you come for a visit:
1. The Hancock Inn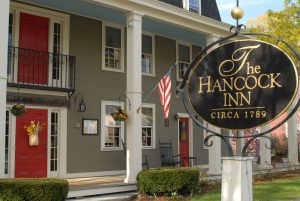 The Hancock Inn is a beautiful inn in the heart of Hancock. It is known for being the oldest inn in New Hampshire. The sprawling inn has been under continuous operation since 1789. The inn is currently operated by Marcia and Jarvis Coffin, accompanied by their friendly golden retriever, Potter. The inn offers delicious food seven nights a week during the summer and fall and tranquil guestrooms. And if you don't have time to stay the night, then make sure to at least stop in for dinner to experience the rich history and warm company.
2. Seven Maples Campground
The Seven Maples Campground is a  family owned campground nestled within the storybook village of Hancook, NH. The 50 year old campground is based on a 54 acre piece of farm land. The quiet and picturesque camp is packed with fun things to do from kayaking to shuffleboard, swimming to fishing and a host of other great things to keep you busy. So if you find yourself looking for a more rustic place to stay than the Hancock Inn, this is a great place to pitch a tent.
3. Harris Center for Conservation Education
The Harris Center for Conservation Education is a conservation site that offers incredibly hands on learning activities and access to a plethora of different hiking trails. Whether you are birding, strolling, picnicking or looking for a challenging hike, one of the various trails will work out perfectly for you. Fortunately, the trails are open all year so if you are around in the winter and looking for something to do, snow showing is absolutely an option.  If ecological research is something you are interested in, then make sure to check out how the conservation pairs volunteers with professional scientist to conduct research on the conservation. With so many different ways to experience nature, the conservation is a great place to go while you are in Hancock.
4. Hancock Historical Society
The Hancock Historical Society is a great place to stop in for any history buff. As one of the oldest towns in the area, the society has been able to aggregate a wealth of fascinating information and artifacts.  The society, which was first established in 1903, has been able to gather many of the antiques from the town and curate them in the beautiful Symonds' house originally built in 1808. The museum is open on Wednesdays and Saturdays 10 am-12pm June through August, so if you are around in the summer, make sure to check in at the historical society.
5. Hancock Library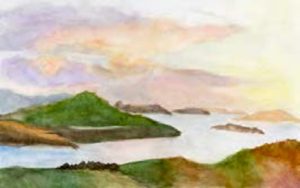 If you are looking for art while you are in Hancock, NH then make sure to check out the Hancock Library. More than just a regular library, Hancock's library often doubles as an art exhibit bringing in beautiful collections from the area. This summer, for instance, the library is displaying the works of the Lone Mountain Artists: Donna Allen, Evelien Bachrach-Seeger, Carole-Anne Centre, Diane Gibbons, Gundy Khouw, and Martine Villalard-Bohnsack. With beautiful paintings like the one to the right, this exhibit is sure worth the trip to Hancock.
6. Hancock Summer Series
The Hancock Summer are free summer concerts held on the common every Thursday from 7 to 8:30. If you are around during the summer, make sure to check the schedule and see who is playing on the common. A great way to round out your trip, if you happen to be around on Thursday!