With the cold weather setting in, it's time to start looking for indoor activities. Lucky for you, exploring new restaurants is at the top of our list! Let's take a look at some of Google's most highly rated stops in Hillsborough, NH.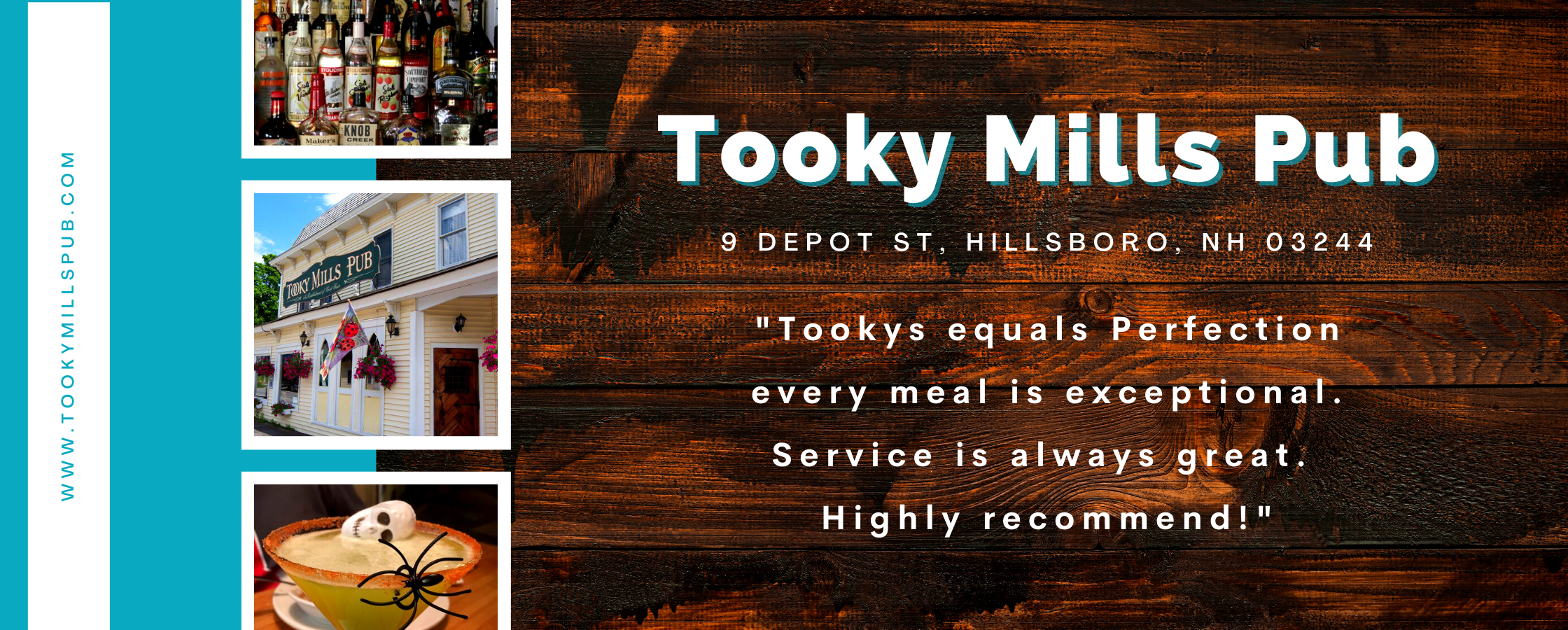 We'll start with Tooky Mills Pub, a favorite of the locals and those who are passing through. "Chef Sean Burt realized his life-long dream of owning his own restaurant when in 1999 he opened Tooky Mills Pub and Restaurant. Since then 'Tookys' has become such a fixture in downtown Hillsborough that it seems like we've been here forever." Their menu features appetizers, classic sandwiches, burgers & "pub-wiches", entrees, soups, greens, a kids corner, pasta and daily specials. They have a high rating of 4.5 on Google and according to Robin Campbell on Google reviews "Tookys = perfection. Every meal is exceptional. Service is always great. Highly recommend."  I'm sure the fact that they have live music nights helps with the perfect dining atmosphere! Follow them on Facebook to see when music will be part of the experience. 
Next up, we have Sampan, Chinese Cuisine, Sushi Bar & Lounge! They have a myriad of dining (and lunch options) including pu pu platter for one (or two), wonton soup, spicy garlic tofu, house specialties like Peking Duck, black pepper scallop and tangy spicy green bean. Not to mention all of their chow mein, lo mein, fried rice, noodle and drink options! If variety is what piques your interest Sampan is the spot for you! According to Jeannie Brault the "Food is delicious and hot! My favorites are: Chicken Green Beans, Crispy Tofu (sesame), and their chicken wings are great!" Jeannie suggests stopping by to "say 'hi' to Tiana!! She is great and friendly and knows the menu!!".
If you're a food truck foodie you'll love this next one! After residing at their brick and mortar location for 7 years Taco Beyond has expanded exclusively into a mobile operation! Along with offering business as usual in Hillsborough they will be able to cater special events. Who doesn't love tacos at a wedding, concert or business after hours event? Among the standard taco options/fixings they also offer options for vegetarians and vegans. Perfect for the family or friend group with a mix of diets! "Best and only…restaurant [with vegan options] within 25 miles. Highly recommend the Marinated Grilled Baby Portabella Mushrooms Burritos. I ask for extra mushrooms. I also enjoy the seasoned black beans and citrus rice. Fair price for everything as well. The food is 5 stars…" – Brian Q 
Make sure to follow along with their new food truck adventures on their Facebook.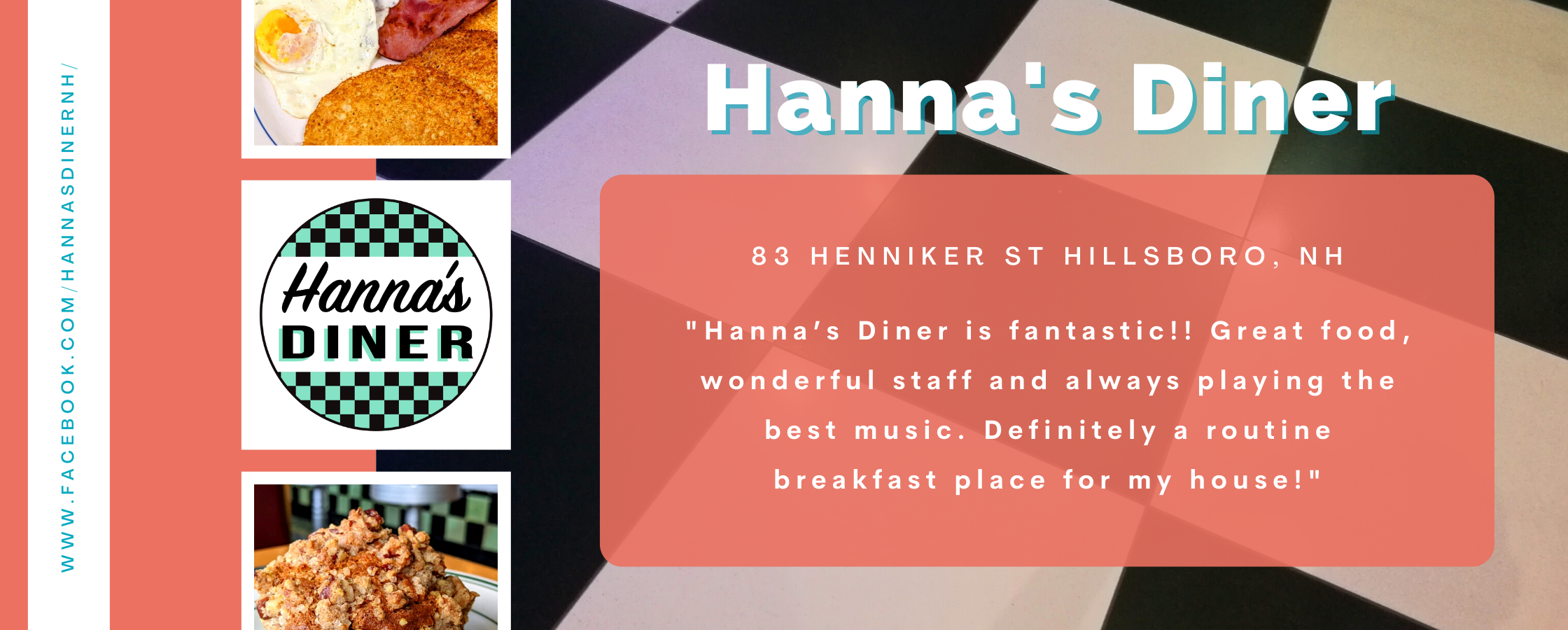 Speaking of foodies I know there are ones that specifically enjoy breakfast! So, I know they'll be delighted to learn that Hanna's Diner serves breakfast all day. This included items like pancakes, omelettes, hash browns, bagels, muffins, breakfast sandwiches and much more. If you're not a breakfast person, don't worry they also serve the regular items the typical diner offers. Hanna's is so popular that it has become a staple for many: "Hanna's Diner is fantastic!! Great food, wonderful staff and always playing the best music. Definitely a routine breakfast place for my house!"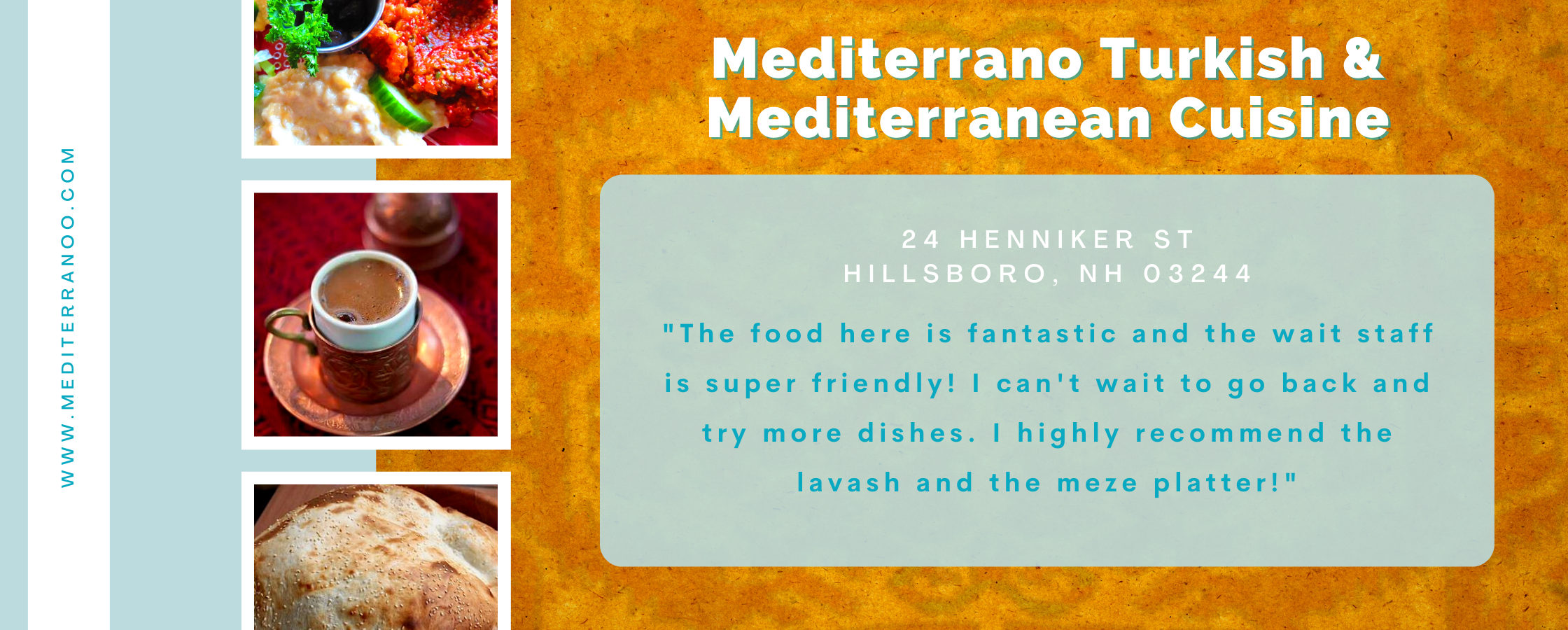 Last on our list of top spots to eat in Hillsborough, but certainly not least, we have Mediterrano Turkish & Mediterranean Cuisine! A great place for indoor dining, outdoor seating, take-out and catering. They have a full bar with a specialty in Mediterranean cocktails. The menu is especially helpful for those with food allergies or those with special dietary requirements. Their menu features high quality dishes like: stuffed grape leaves, hummus, lavash bread, falafel, spinach pie, kebabs of all kinds and stuffed eggplant. There are many must try items! "The food here is fantastic and the wait staff is super friendly! I can't wait to go back and try more dishes. I highly recommend the lavash and the meze platter!" – M Fuller
Looking for something to do before or after dinner? Check out our great events calendar!