In 1896, a prominent New York composer, Edward MacDowell and his wife, Marian MacDowell, bought a large farm in Peterborough, New Hampshire. This seemingly innocuous decision would lead to one of the most fruitful artistic residencies in the world. But before it became the MacDowell Colony, the couple used the farm as an escape from the hustle of New York and a center of inspiration and composition.
MacDowell, who was one of five great American composer honored with a stamp in 1940, said he was able to compose more and at a higher quality in the peaceful Monadnock town. Sadly, MacDowell passed away at 48 years old, after struggling with dementia, worsened by a cab accident four years earlier.
Before he died, he expressed to his wife that he would like to share their artistic sanctuary with other artists. This concept became known as the "Peterborough Idea" and received funding from such prominent contemporaries as Andrew Carnegie, Grover Cleveland and J. P. Morgan.
Marian was able to use the funds to grow the colony until her death in 1956, adding 32 separate studios and creating a world renown program. Since then, over 6000 artists have participated in the program, and at least 61 Pulitzer Prize winners among them.
Here are the four most notable artists who worked in Peterborough, New Hampshire:
1. Thornton Wilder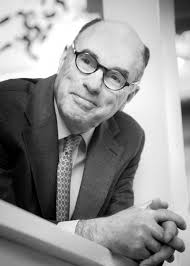 Ever hear of a little play called "Our Town"? Yea, Thorton Wilder wrote it about Peterborough, during his stay in 1937. The three time Pulitzer Prize author frequented the MacDowell Colony.
Before writing "Our Town" he worked on his breakout and Pulitzer Prize winning novel "The Bridge of San Luis Rey" at the Colony. In 1928, he wrote Mrs. MacDowell a letter recalling his stay:
"Dear Mrs. MacDowell,
It makes me very happy just to hear from you. I am one of your loyalest and most indebted boys. Now you must not be impatient with me for saying that the opportunity of seeing your wonderful and tireless devotion to an idea remains a sort of message to me. Long sections of 'The Bridge of San Luis Rey' were written in the valley below Emil's garden. I would write a page and then go out and walk around in the sunlight until I had stopped crying. The ants on page 143 were the very ants that were trying to destroy the New Jersey studio."
….
"I hope it will not be long before one of these Sunday evenings you will again be trying to shoo me out of the kitchen. I am a Peterboroughvian for good, and when my teaching routine is at last over I want to be a real soldier for you in more practical fields.
With all my admiration and affection,
Thornton Wilder."
2. Leonard Bernstein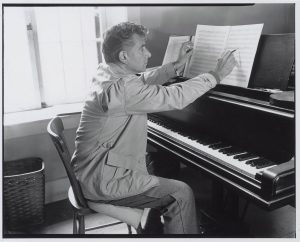 Leonard Bernstein is one of America's greatest composers. When Bernstein passed away in 1990, Donal Henahan of the New York times opined: "one of the most prodigally talented and successful musicians in American history, died yesterday."
Bernstein became known as a Renaissance man of music with his vast career spanning from being the conductor of New York's Philharmonic to composing scores for Broadway classics like "West Side Story" and "Candide" to contributing multiple ballet and opera pieces to educating the masses with his musical education television series.
Bernstein was simply prolific and one of the places he must like to compose at was the MacDowell Colony. He stayed at the colony three time beginning in 1962.
"All of those times I was writing works which had, at least in intent, a vastness, which were dealing with subjects of astronomical if not mystical and astrological dimension," he later said about his time there. "This vastness is inherent somehow in this place."
3. Jonathan Franzen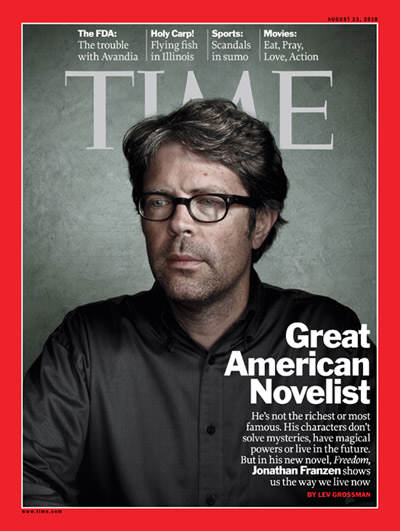 Jonathan Franzen is arguably one of the best writers alive. He's been a finalist for the Pulitzer Prize, won a National Book Award and made the cover of Time Magazine with the header, "Great American Novelist."
Though Franzen had been a staff writer for the New Yorker, published two novels and penned various critically acclaimed essays, he would did not breakout into novelist stardom until he published his 2001 novel, "The Corrections." Fittingly, he wrote a portion of the novel at The MacDowell Colony during his stay there.
The colony seems to fit well with Franzen's totally-quiet-and-disconnected writing station style. A fellow writer, Kathryn Chetkovich, who was at the colony at the same timed said, Franzen "played pool after dinner in the barnlike common room of the colony, and I would watch him through the window of the phone-booth door as I made my nightly call to my parents across the country in California."
4. Michael Chabon
Michael Chabon is veritably one of the most celebrated writers of this generation. He won the Pulitzer Prize in 2001 for "The Amazing Adventures of Kavalier & Clay" and his second novel, "Wonder Boys," was adapted into the popular film by the same name.
Chabon first attended MacDowell in 1996, after having his first child.  He went on to attend eight more times before being appointed as the Chairman of The MacDowell Colony Board of Directors, in 2010. He speaks about his love for the colony in the video below: