It is a town that was founded upon the banks of the Cold River in the 1700s, and often remembered as the Monadnock region community devastated when the normally mild river and its tributaries swelled beyond capacity in 2005, washing away homes, cars, miles of road and tragically taking the lives of four residents.
But Alstead, New Hampshire is not a village complacent to leave behind a legacy based on a single disaster. Instead, this tight knit community proudly displays its rich history of agriculture, paper mills, mining and artistry – while continuing to create good food, enjoy good music, seek out good fishing spots (try Lake Warren or Newell Pond), find peace in Feuer State Forest, and honor the graceful power of the river.
Not to mention it boasts hidden mica mines, watery caverns and the only carillon in Cheshire County. It's also happens to be home to a unique, and very large blue-eyed Mammoth that stands outside the Forest Road workshop of its creator, welder and sculpture, Bob Taylor. Along with his team of talented, down-to-earth artists, Taylor has become nationally renowned for the ability to turn scrap into creative, colorful and massive metal sculptures.
Here's more on the who, what, where and how to discover Alstead, New Hampshire.
Detailed Engravings

Since 2000, Randy Miller's engraving of Ceres, the goddess of agriculture has been on title page of The Old Farmer's Almanac, the oldest continuously published periodical in North America. This East Alstead resident, visual artist, and traditional contra dance musician has created more than 200 original wood engravings since 1971. His hand-engraved scenes celebrate the rural landscape and its people, and his studies of historic architecture lovingly document the craftsmanship of our ancestors. Each print is available in open-ended editions of 200, titled and signed. Prints are hand-pulled directly from the woodblock by the artist on his antique printing press, using cream Welsh basingwerk fine arts paper. Miller also is talented in the medium of pencil, and pen and ink drawings.
Healthy Eating & Community Living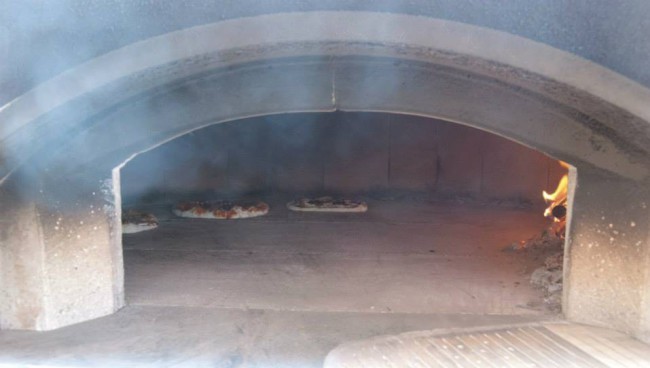 Orchard Hill Breadworks' popular pizza nights during the summer months feature live entertainment, byo toppings, and a huge community turnout with 100% of the proceeds donated to area organizations and charities. The company's mainstay of traditional wood fired breads and specialty baked goods are in high demand at farmers markets, restaurants and grocery stores throughout Monadnock Region all year long. Started in 1997, the unique history of this Alstead baking company is a fascinating evolution of three generations of a family devoted to 30+ acres of fields and forest that today is the home of pizza pavilion, bakery, orchards, gardens, four homes and The Orchard School and Community Center, which hosts community events from world culture to arts and crafts to dances.
Collective History

Members of The Alstead Historical Society (AHS) acted fast during to preserve the personal objects of its residents during The Flood of 2005. Pictures and keepsakes were plucked from the mud and trees, and redistributed back to owners seeking hope amidst the wreckage. Much of it found its way to the Alstead Historical Museum, located in the Maybelle H. Still Memorial Building, an 1844 Universalist Church, that contains extensive collections of late 19th and early 20th century artifacts significant to the town. Founded in 1937, this active organization is dedicated to educating the general public about the town, including the history of mining mica, feldspar and beryl at the 26 different mines located in Alstead, which began in the early 1800's and continued through the 1960's.
Live Music & Workshops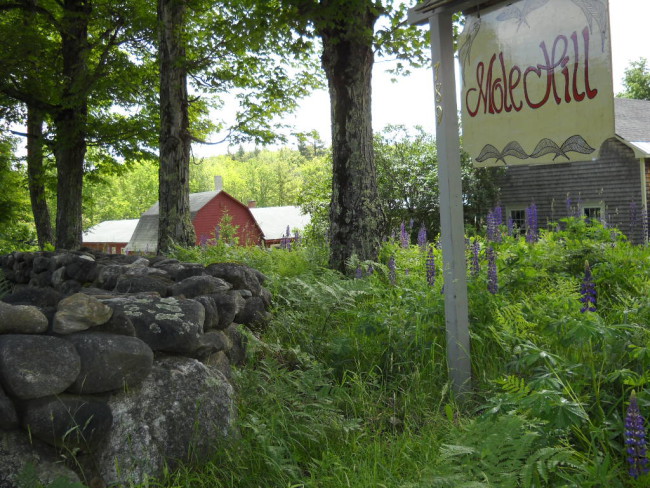 It's unassuming in its unlikely origins as a machine shop but over the past ten years, according to the music aficionados at Monadnotes.com, Mole Hill Theatre has become an increasingly popular venue for enjoying some of the best live weekly musical offerings in the region. Located in East Alstead at the western edge of the Monadnock Region, Mole Hill Theatre has its own unique feel created by art, eclectic furnishings, and a stage flanked by brightly colored machine presses on either side. Most performances, such as those from the The Rude Mechanicals Theater Ensemble have a $10 admission price and are BYOB. Gilsum Mine Road is in the Mole Hill area of East Alstead – just 12 miles and about a 20 minute drive from the center of Keene.
Peaceful Recreations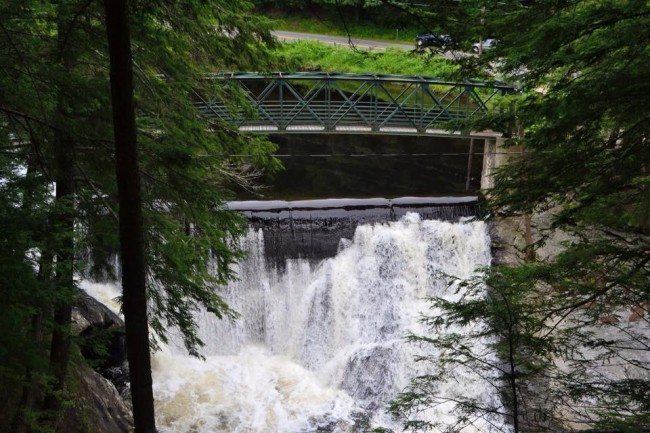 A stone bell tower, cascading waterfalls, picnic area and boating. These are just a few of the highlights that has made the natural Vilas Pool Park a year round destination spot for locals and visitors. One of the Monadnock Region's hidden gems, the land for Vilas Pool Park was donated to the Town of Alstead by Charles Vilas in the 1920s. Although it fell upon hard times, and swimming is no longer allowed, residents have banded together in recent years to fundraise, volunteer and maintain the public grounds of this peaceful, community oriented recreation area that offers beautiful walking views, boating, a playground, camping, music festivals, cribbage gatherings, zumba classes, weddings, picnic areas, horseshoes and fire pits.