NICOLE S. COLSON
Ludwig von Beethoven was the inspiration for Electric Earth Concerts. In fact, his words are in the name of the series.
"Music is the electric earth in which the spirit lives, thinks, invents," is a direct quote from the composer himself on the website.
"Our name honors his idea that music is fertile ground for the spirit, and expresses our desire to make music in an environment alive and open to creative discovery," said Jonathan Bagg, a violist who co-founded Electric Earth Concerts with flutist Laura Gilbert.
The couple, former artistic directors of the Monadnock Music concert series, left that organization to start their own in early 2012.
Markedly, Electric Earth's mission is to include everyone. The varied musical offerings: chamber music, roots music, classical, cabaret—and electric—can be featured in any given season.
"When we hear a wonderful concert by a folk group, it stimulates the same parts of our brain a great string quartet performance does," he said. "When you're open to what makes a great performance—you should be able to enjoy jazz, folk, cabaret—it's all part of one big canvas of music making."
Being all-inclusive in planning the Electric Earth series, Bagg explains, is important because music doesn't discriminate.
Electric Earth provides accessible concerts
Bagg and Gilbert provide high-quality free or affordable concerts to groups in the Monadnock region whose members may not easily be able to attend concerts. These include audiences at schools, rehabilitation centers and homes for the disabled. Events are generally interspersed throughout the year.
These potential audiences in the Monadnock Region may normally see an Electric Earth concert listed and think it's not for them, the couple explained.
"We wanted to build on more accessibility to all these communities in this area who are in little nooks and crannies you just don't know about who don't necessarily come to concerts," said Gilbert. "We wouldn't know these people or these communities at all. We are interested in expanding our mission to reach as many people as we can."
One of the many ways Electric Earth works to fulfill this mission is with its Open Doors initiative, a series of concerts funded by the New Hampshire State Council on the Arts. The family-friendly series exists in community spaces such as public libraries and community centers. For example, The Root Cafe in Temple is an impromptu community-building space for local residents and those of surrounding towns.
Bagg and Gilbert are also collaborating with the newly-renovated and reopened Park Theatre in Jaffrey. Fall series artists will be offering free matinee concerts for families at noon on the day of the evening concert.
Bagg and Gilbert navigate the pandemic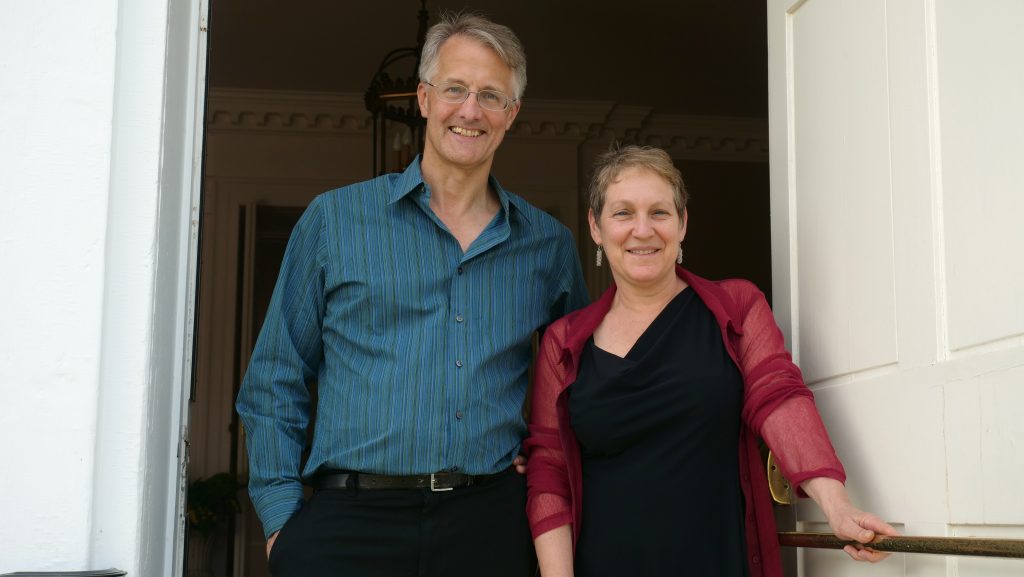 During the pandemic, the co-founders needed to suspend the live concert series as well as Open Doors. The need to think outside the box to deliver music to people prompted several musical initiatives. As a result, they created the Out of Doors series: free concerts broadcast outside venues via a state-of-the-art sound system. The outdoor concerts make music accessible to those who choose not to purchase indoor tickets. Instead, listeners can enjoy concerts in a low-key setting (complete with lawn chairs, blankets and refreshments) perfect for newcomers to live classical music.
"People walk by, sit down and listen," said Gilbert.
"Many are people with kids, or they are afraid they won't like the music so they don't buy an indoor ticket," added Bagg. People came and felt informal and unthreatened by the situation."
Another project launched during the pandemic is The Singing Stream. This series of free musical walking tours is a collaboration with the Harris Center for Conservation Education.
Electric Earth gains community exposure
Undeniably, a lot of Electric Earth Concerts' exposure comes from word of mouth.
"People come (to concerts) to see other people," said Bagg. "It's an incentive."
Gilbert mentioned a couple from Massachusetts who started coming to our concerts last year and became "obsessed" with them.
"This year they brought their grandson with them and sat on the lawn," she said.
Plowshare Farm in Greenfield is a long-time community partner of Electric Earth Concerts. The farm hosts a free reception and feast after every event. Significantly, one regular audience member has attended every single concert.
"Community and accessibility in the Monadnock Region are almost the same thing," said Gilbert. "Everyone knows everyone."
Electric Earth isn't only a music series — the organization often explores music's connection to literature, dance and visual art as another way for people to gain access.
For example, the organization has hosted several projects involving painting to music. A percussion and cello duo played modern music at Peterborough's Bass Hall while visitors created art with brushes and tempera paint.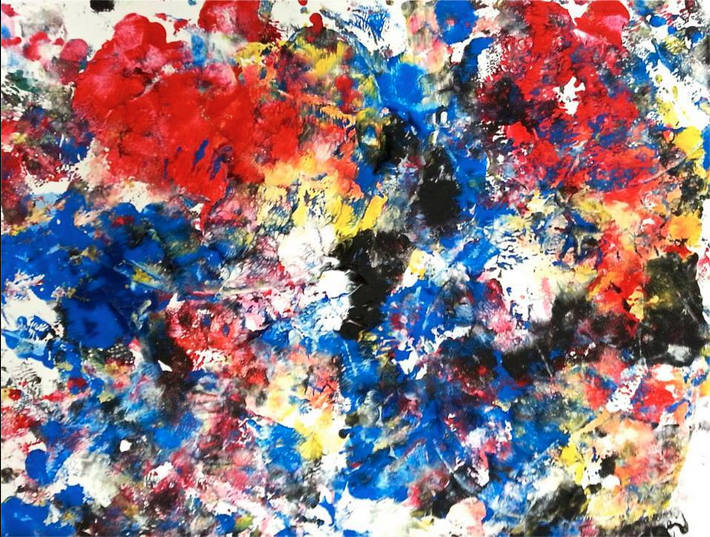 "One of our most valuable goals is to create a sense of community around concerts—friendship, warmth, connection," said Bagg. "We want more engagement."
More information is available on the Arts Access Project opening doors to the arts. Visit our Arts Access project and resources page. Visit Electric Earth's website for more information on the project.