Some art forms give us an opportunity to connect with one another: film, dance, theater, etc.  However, studio art is a solitary business by nature.  Because of this, reaching out to collaborate or simply connect with other artists can be difficult, especially in a small town that lacks a creative space for artists to convene.  This is why artists from different towns all throughout the Monadnock region are taking matters into their own hands, creating Monadnock art communities.  Little artist collectives are popping up everywhere, it seems, and growing at an exciting rate!  I did some digging and chatted with members of four such collectives that are actively bringing their local art community together.
Walpole Artisans Cooperative
Josiah Beer is a painter operating out of Walpole, NH, and a member of the Walpole Artisans Cooperative.  As a member of the cooperative's board of directors and the advertising committee, he has done a lot for this organization and really enjoys being part of "a terrific group of like-minded people."  The cooperative's main operations are annual art tours in which visitors can see a variety of artists hone their crafts in several different locations, and a shop run by the artists themselves.  The Walpole Artisans Cooperative isn't picky about the types of art they accept; during the annual Walpole Artisans Tour on Thanksgiving weekend you'll see everything from wooden furniture to found object jewelry.  Another collective member, glassblower Chris Sherwin, had a lot to say about the economic impact of the work they do: "…'Locally handmade' is a better quality 'social' alternative to the highly advertised/promoted imported and/or poorly crafted work in the larger society today. Shopping local keeps dollars within our local/regional communities and offers a better quality of life for all of us – as craft-makers and craft-purchasing customers…"
League of New Hampshire Craftsmen
On the same note as this little co-op is the much older and well-known League of New Hampshire Craftsmen – which has been around since the 1920s!  Operations Manager and avid quilter Kate Sussman filled me in on what the NH League of Craftsmen is all about: "The League of NH Craftsmen is centered around the joy of fine craft, the craftsmen at the center of what we do, and the importance [of] what we do for NH's creative economy."  The league's main undertaking as far as boosting the creative economy is their Annual Craftsmen's Fair, founded in 1933.  That first year, the fair's total sales amounted to $2,698 – equivalent to almost $50,000 today.  The Craftsmen's Fair blew everyone's expectations out of the water, and survived the Great Depression to become a treasured event that many New Hampshire residents look forward to every year.  The league also facilitates NH Open Doors, another annual event  that allows locals and visitors alike a unique chance to not only shop for handmade goods, but also to see demonstrations by the artists and craftsmen themselves.  People are able to put faces to the art they admire, connect, and keep in touch with the artists.  This personalized experience is what sets local business apart, and keeps people coming back for more.
Creative Ventures Gallery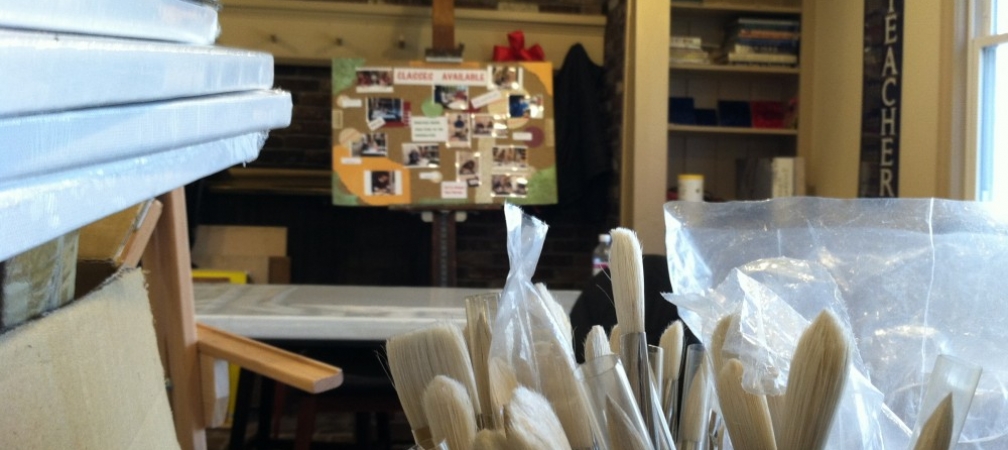 Quite opposite from the widespread NH League of Craftsmen is little Creative Ventures Gallery in Amherst, NH.  This gallery was founded just last year by pastel artist Betsy Craumer, because she lived on a culdesac and needed more exposure.  Creative Ventures evolved into a collective when Craumer realized she had much more space and higher rent than she could fulfill on her own.  She called up a couple artist friends from Nashua, they each pulled in a buddy, and it just blossomed from there.  Creative Ventures is no longer simply a gallery.  It is a studio, a classroom, and an environment bustling with artists who work towards a common goal: to fill an artistic void Craumer sensed within her community.  "[There are] not many places around here where people who are looking for artwork can find it," remarks Craumer.  Creative Ventures is changing that.  Check out their website for a list of classes, hone your own skills, and join the movement!
Monadnock Art / Friends of the Dublin Art Colony
Our final perspective on artist collectives comes from Rick Hance, president of Monadnock Art/Friends of the Dublin Art Colony.  Monadnock Art has a history as rich as the League of NH Craftsmen, and this history is important to Hance.  When asked about the goals of this collective, he stated that the collective is "…try[ing] to celebrate and keep alive the history of artists that assembled at the turn of 20th century."  Indeed, the roots of Monadnock Art can be traced back to 1888, when founder Abbott Handerson Thayer first arrived in Dublin and decided to get to know some of the local artists.  Nowadays the colony focuses mainly on their 21-year strong Columbus Day weekend Art Tour.  The first of these tours raised money for a private school in Dublin, but currently the tour is for the financial benefit of the artists.  Hance describes the tour as "a huge shot in the arm for the local economy," as it typically attracts hundreds of people over the course of three days.  This economic success actually spawned a second art tour: The Fall Foliage Art Tour takes place in the surrounding towns, and gives any artists that couldn't secure a spot in the Columbus Day tour another chance to show off their work.  According to Hance, these tours and artists all serve to make people "more aware of the depth and breadth of art under their noses."  Who would pass up a chance to buy local and discover something new in the process?