Waiting for snow? You're not alone. Mild late autumn temperatures mean outdoor, cold-weather enthusiasts of all ages are chomping at the bit to suit up – and participate in their favorite winter sports.
Skating. Skiing. Snowboarding. Sledding. Snowshoeing. Winter Hiking. Sleighrides. Ice Racing. The list of winter activities is endless as long as you're bundled up, geared up, and ready to participate in New Hampshire's hardiest, most breathtakingly cold season.
From Bennington to New Ipswich to Keene, you don't have to go far to find steep slopes, meandering trails, or icy nooks and crannies that will make you feel like a kid again. So we've compiled seven awesome winter destinations right here in the Monadnock region to get you excited for the upcoming winter season. (And just in case you need to come in from the cold, we've included a bonus artistic endeavor sure to keep your fingers toasty warm.)
Keene Community Ice Arena
It's official. The eagerly anticipated Keene Community Ice Arena (Keene ICE) opened to the public at the end of November. Located on Marlborough Street in Keene, the NHL-sized indoor skating arena is now the home ice of high school teams and youth hockey clubs, and offers learn to skate programs and public skate hours for Monadnock region residents all year long. The nearly $9 million, state-of-the-art, environmentally and energy efficient indoor ice skating facility was a labor of love for the nonprofit organization behind the fundraising and an eight-month build. Located adjacent to the Keene Police Station, parking at Keene ICE can accommodate 250 vehicles and bleacher seating will be able to accommodate up to 500 people once the finishing touches are complete.
Dublin School Nordic Center
The Nordic Center at Dublin School right off Route 101 is free and open to the public when not being used for school and regional events, and when conditions are safe for cross-country skiing. During regular season, trails will be groomed and ready to ski on by 10:00am each day. This hidden gem opened in January 2014 and consists of a 7 km trail system, designed by John Morton of Morton Trails. It provides the school, and the public, with a state of the art training and racing facility to complement its long-existing 20 km trail system.
Crotched Mountain Ski & Ride
Crotched Mountain, located in Bennington and Francestown, reopened in the 2003-2004 winter after having been closed for 13 years. Today it boasts 'The Rocket', southern New Hampshire's only high-speed quad lift. In addition, it continues to attract all levels of skiers and snowboarders with its popular terrain parks, school ski programs, midnight madness park hours, easy commute, and affordable season passes. The mountain is open daily during the season thanks to the snowmaking fleet, which as soon as the temperature drops, can cover 100% of the trails, with 100% fan guns, and can pump 6,000 gallons of water a minute.
Granite Gorge
Granite Gorge Ski Area and Tubing Park at Pinnacle Mountain off Route 9 in Keene features 20 trails, and is considered one of the best tubing parks in New England. In addition to downhill skiing, snowboarding and tubing, Granite Gorge Cross Country has 14 km of groomed trails for classic and skate skiing and a 1 km fully lighted loop that is covered with machine-made snow and great for cross-country skiing on Friday and Saturday nights. This unique park was formed in the late 1950's by a committee featuring former Olympians who wanted to find an ideal "gateway" mountain in southern New Hampshire.
The Harris Center
Strap on the snowshoes and enjoy a winter wonderland adventure. The Harris Center For Conservation Education offers more than 100 free programs and outings throughout the year, and many of these happen during the coldest months. The Harris Center has winter hiking and snowshoeing trips for all ages and abilities, regardless of weather or snow depth. If snow depth exceeds 8 inches, snowshoes are usually in order. The Harris Center has snowshoes to lend to guests, but please call ahead to reserve them. If there is not enough snow for snowshoes or cross-country skiing, winter trips will go as hikes.
Windblown Cross-Country Skiing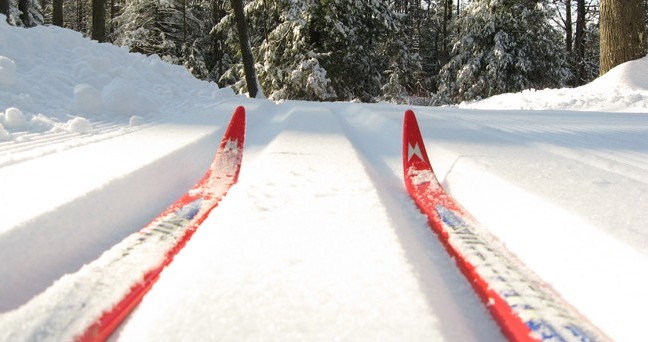 Situated atop some of New Ipswich's most beautiful terrain, Windblown Cross Country Skiing has 40 kilometers of trails, and something for every member of the family. The facility takes special care to provide exceptional grooming, high quality rental skis and snowshoes, and a family-friendly handcrafted Base Lodge with healthy food and pleasant wood-heated spaces. Just a short drive from any town in the Monadnock region, Windblown has been attracting skiers from across New England since 1972 thanks to this abundance of serene trails that undulate and curve with rhythms and landscapes.
Temple Mountain State Reservation
If you grew up in the Monadnock Region anytime between the years 1938-2001, Temple Mountain Ski Area was probably where you learned to ski. Today it's a 350-acre state-owned recreation area that connects with the Wapack Trail and sits opposite it's sister mountain, Pack Monadnock at Miller State Park on Route 101. Straddling the towns of Peterborough, Sharon and Temple, it offers several summit trails for seasoned hikers but young children, with adult supervision, can enjoy the wild, rugged terrain in winter as well.
Want To Warm Up This Winter? Try Glassblowing!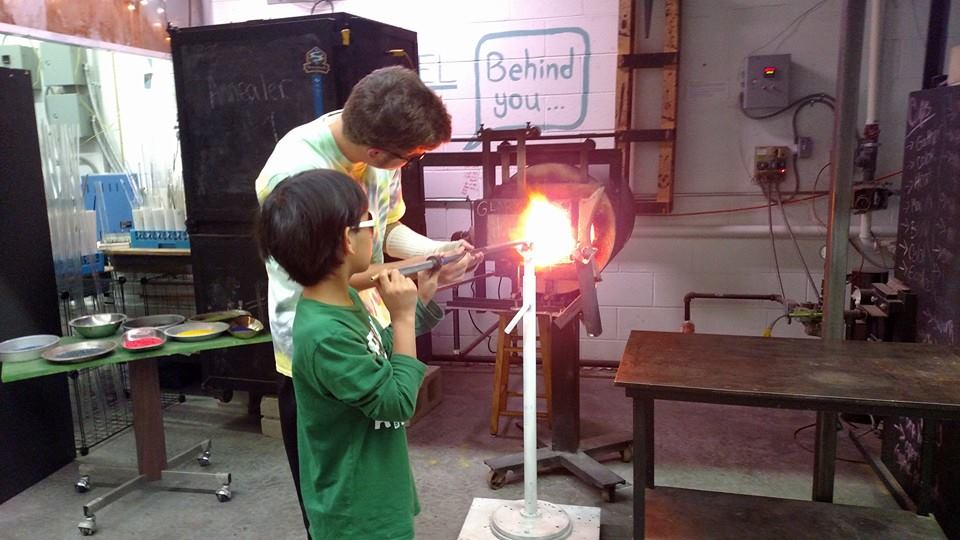 Too cold to go outside? Or simply prefer to stay indoors? Thanks to a resurgence in the popularity of the technical art of glassblowing in the Monadnock Region you can! Terrapin Glassblowing Studio in Jaffrey and Hot Glass Art Center in Marlborough offer demonstrations, workshops and classes for all skill levels, as well as hourly studio rentals for experienced glass artists.