From Abbot Thayer to Mark Twain, Ralph Waldo Emerson and Henry David Thoreau, the dramatic views of Mount Monadnock in southwest New Hampshire have captivated people for centuries. The "Mountain That Stands Alone" continues to hold rank as the second most climbed mountain in the world behind Mt. Fuji, drawing an estimated 80,000 to 100,000 hikers each year.
As Monadnock Region residents, we're fortunate to have a myriad of artists in our midst that continue to capture the nuances of its magnetic peak and the surrounding views. From the Connecticut River Valley towns of the Northwest like Walpole and Westmoreland to the scenic towns of the Southeast like Mason and Wilton and everywhere in between, the mountain continues to inspire an abundance of artists, musicians, filmmakers, photographers and writers.
Fittingly, this month we take time to recognize two contemporary artists exploring Mt. Monadnock by viewing it through the eyes of visitors throughout the 20th century .
Corwin Levi and Michelle Aldredge, both residents of Harrisville, first met at an artist residency in Saratoga, Wyoming. Levi is a mixed-media visual artist who has traveled to more than fifteen artist residencies, had shows across the country, and lived in eleven different states. Aldredge is a visual artist whose work focuses on reimagining existing cultural artifacts and has worked both as an arts writer, founding the blog Gwarlingo, and assisting artists at The MacDowell Colony.
Levi and Aldredge have successfully brought a series of arts events to New Hampshire and, most recently, started creating new work together, including a book of Grimm fairytales as interpreted by contemporary artists.
"100 Views of Mt. Monadnock" is the first show of their collaborative artwork. To explore the mountain's history and legacy, Levi and Aldredge collected 100 views of the mountain in the form of postcards (and their messages), postmarked from 1900 to 1995.
The series, reminiscent of Hokusai's 100 Views of Mount Fuji, depicts scenes from surrounding towns in the region, highlighting just how omni-present Monadnock is to locals and tourists alike.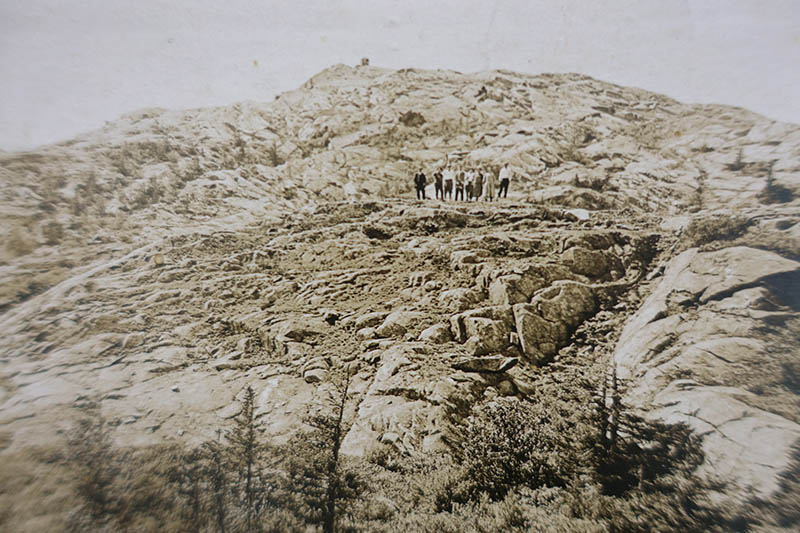 These postcards illuminate the power of the mountain, a constant reference point against which the human landscape has been changing for centuries. Both the images and the personal texts on these cards, in the aggregate, paint just as nuanced a picture as Abbott Thayer's paintings.
Just as the 20th century brought a new perspective to painting, the 21st century brings a new perspective to artmaking as a whole: remixing, appropriation, and the archival impulse define our contemporary culture moreso than ever before, and it is in this tradition that artists Levi and Aldredge have assembled this show.
Many correspondents comment on the mountain itself or the surrounding wildlife, weather, or landscape. Others are of a more personal nature, illuminating the era of the card. In 1908, at a time when it was not common for women to wear pants, a woman with the initials RHD wrote to her friend Ellener in Allenstown, New Hampshire saying, "I wanted to pick Blackberries so much I bought a Pair of Pants."
Looking at the show, the postcards start to paint a picture of how the story of Monadnock region is not merely a history of our adventures and exploits against the background of a mountain, but–maybe moreso–the story of a singular peak against a background of our history.
Below is a small sample of the series, which you can view in its entirety at the "100 Views of Mt. Monadnock" opening at 5:30 p.m. on Friday, January 22nd at 41 Main Street in Harrisville, New Hampshire.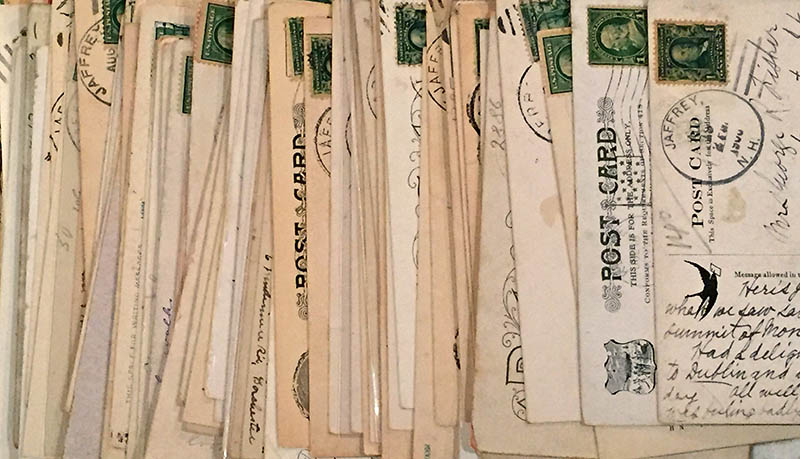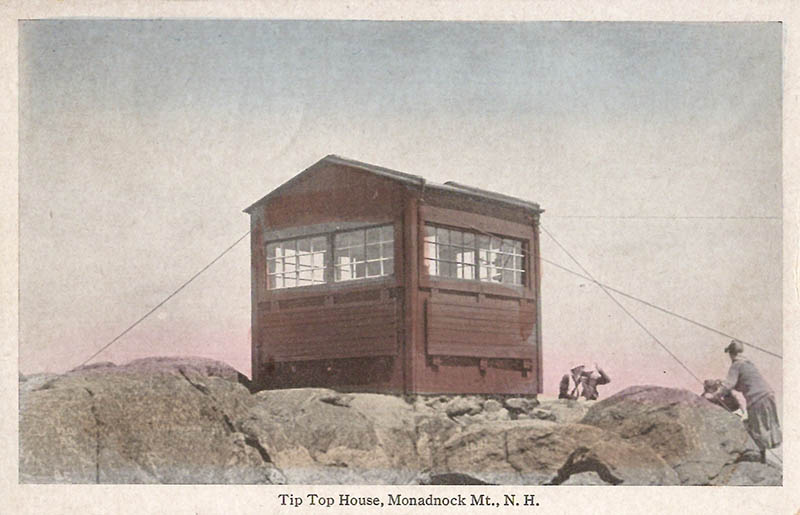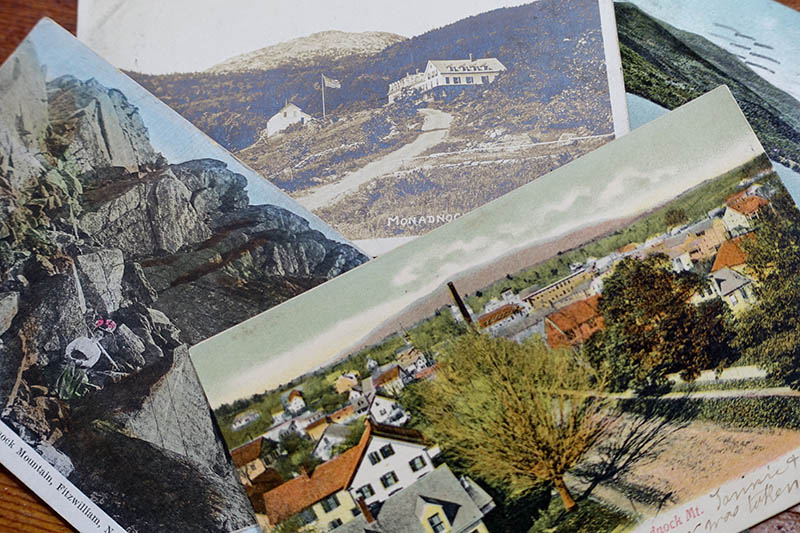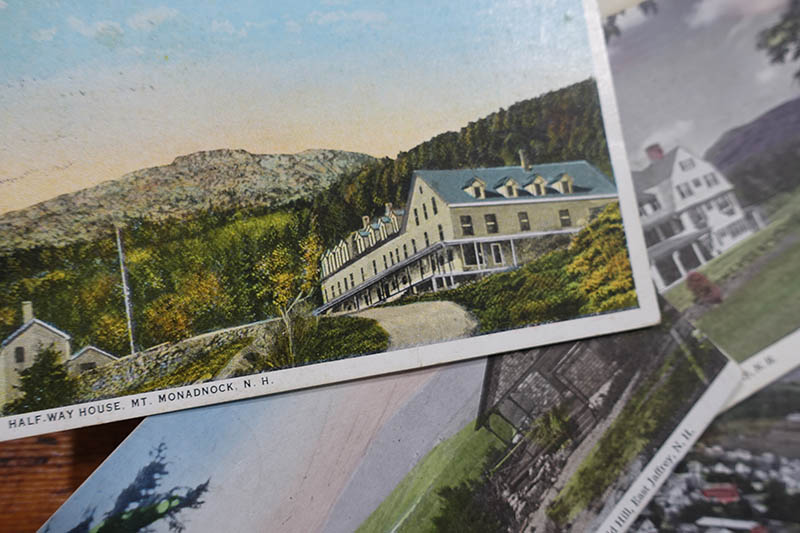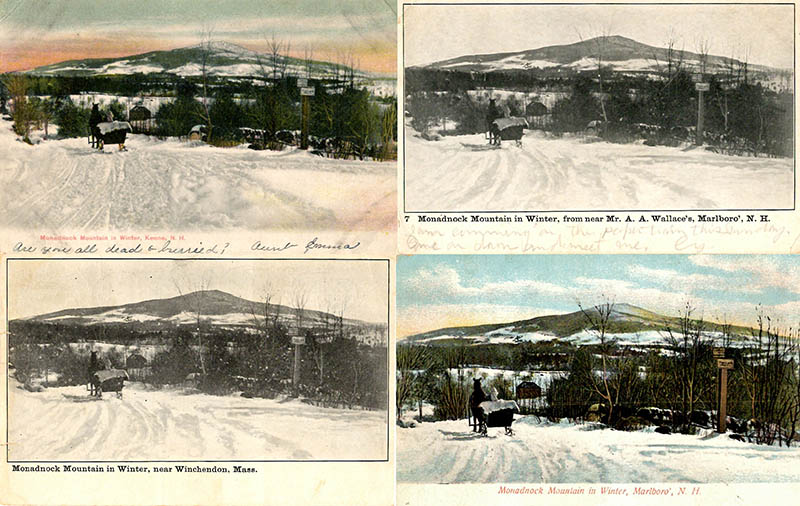 All images courtesy of Corwin Levi & Michelle Aldredge.