Hinsdale New Hampshire is one of those unassuming small towns that is full of charm. For a sleepy town, we found so many things to do in Hinsdale New Hampshire! From an annual Art in the Park festival to a warm-season farmers market and plenty of outdoor places to explore. The town even has an old fashioned drive-in and one of the best diners around. 
Farmer's Market and Art in the Park
The Hinsdale farmers market is a great place to check out local farmers' wares. Pick up some fresh snacks or something to take home to cook. The Hinsdale Farmers Market operates on Sundays May through October from 9am-1pm in downtown Hinsdale at the Millstream Riverfront Park. 
In the same location you can find another great event! Art in the Park is a community based event held annually in June in the downtown Park right along the river and Main Street in Hinsdale.  Come check out local artisans showcasing their art in all types of mediums – painting, drawing, culinary, iron, pottery, crafts, authors.  The event features live music and activities for children such as sand art, rock painting and a community art project.  Some activities are free and some with a small cost. The Monadnock region has a thriving arts community, which is supported by Arts Alive!
Pisgah State Park
Pisgah State Park is the largest state park in New Hampshire. Although only a small portion of the park (~5%) is located in Hinsdale, Pisgah provides great opportunities to go hiking, mountain biking, ATV and snowmobiling, cross country skiing, horseback riding, bird watching, fishing, boating, swimming, and more! There are six trailheads around the park, which provide access to over 20 miles of trails.  And great news – use of this State Park is totally free!
Rail Trails
If you're into walking or biking there are two recreational rail trails in Hinsdale. Once railway lines that connected the region, they are now gravel and dirt paths that connect the whole region. The Fort Hill Branch Rail Trail is 8.9 miles long and runs all the way from Brattleboro, Vermont across the river and through town. It meets up with the Ashuelot Branch Rail Trail at Dole Junction. This trail is 21 miles long and runs all the way to the "big city" of Keene. The rail trails are a great way to see the region away from the bustle of traffic!
Old Fashioned Drive-In
Down near the border of Massachusetts, after a short drive through corn fields and farmland, you'll arrive at the Northfield Drive-In. Opened in 1948, the drive in runs feature summer blockbuster movies from late spring to early fall every year. The concession stand has all your favorite movie night treats to sustain you through the double and triple feature nights! The Northfield Drive-In remains true to its original intent of being an affordable, family-friendly, entertaining night out. 
Bacon me Crazy
Speaking of delicious food to sustain you, you cannot leave Hindsale New Hampshire without making a stop in Bacon Me Crazy, a little diner on the main drag. Their Facebook page says it all: "Serving Breakfast and Lunch!! And BACON!!" We could go on and on about how great they are, but here are some reviews that will have you raring to visit!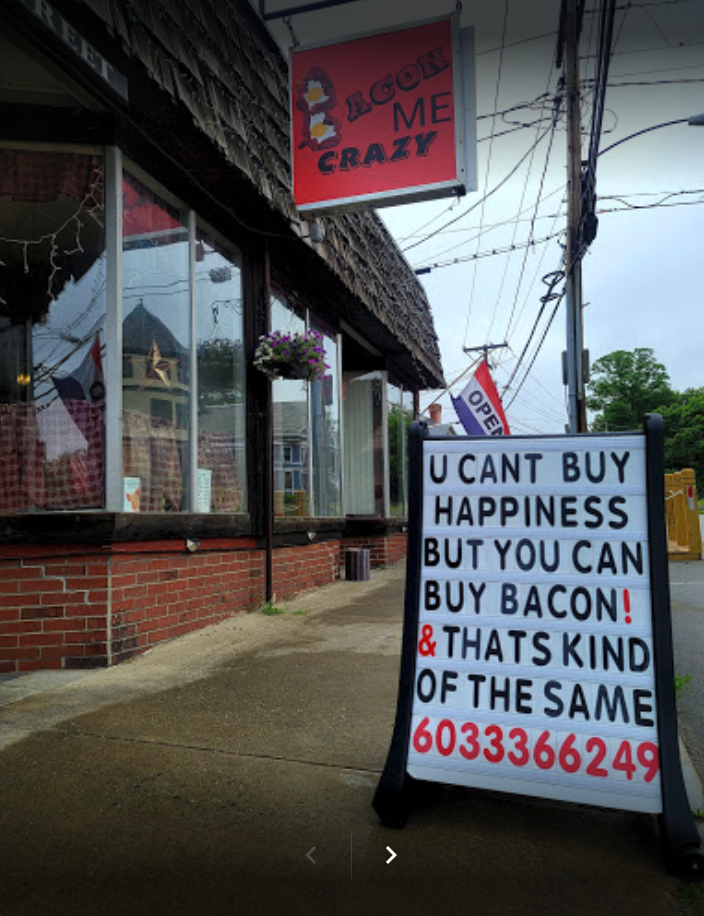 Even the pancakes were happy to see us at this jewel in the center of Hinsdale.  Somehow, delicious and scrumptious seem to be understatements of the flavourful delight that teased and tickled our palates.  Service is certainly equal to the delectable morsels on our plates, from the friendly and helpful staff.  If only six stars were possible in the rating system! -T. Griggs

Awesome food and the serving size should probably require a commercial drivers license to transport! In summary: I ate too much and I'd do it again! -Jamey Stevens

Delicious hole in the wall! We stumbled upon it from out of state and will definitely return when we're back in town. -Samantha Collins

Great experience. Food was top notch and the waitress was very kind and hospitable. Definitely brought me back to my childhood eating at local diners/ cafes with my parents and grandparents. -Christopher Warren Mattson-Whipple

Don't come if you aren't starving. It's impossible to leave food on the plate. So very good. cheesecake French toast was delicious and of course the bacon is just perfect. My husband had the bacon cheeseburger and loved it. And the waitress was just the sweetest person ever. We love this place so much. -Ann Brennan
Stop by Hinsdale for some great food, the great outdoors, and a great little community. And to find other events happening nearby, check out our calendar!