Sitting on the Connecticut River, Chesterfield NH is a beautiful small town made up of two communities: Spofford, NH and West Chesterfield. Chesterfield's beautiful Spofford Lake, immense forest hiking trails and haunted castle intrigue have long drawn tourists from around the New England area and beyond to the picturesque town on the west side of the Monadnock Region.
Chesterfield, NH was founded in 1735, housing the first fort on the Connecticut river. As its population swelled since its founding, the town has been able to maintain its beautiful natural scenery which makes it well worth the trip, no matter where you're from. When you do come to Chesterfield, here's our list of the top things to do:
1. 1780 Farm
The 1780 Farm is a family run farm in Chesterfield, NH that sells their wide array of products at their farm stand June through October. The farm grows and sells vegetables, herbs, eggs, greens, peas, cucumbers, beans, peppers, tomatoes and a variety of the vegetables. They also have blueberry picking, Walpole Ice cream, and hiking trials all packed into one great location.
If you call ahead, they will even pack you a picnic basket, making the 1780 farmthe perfect first stop on an eventful trip to Chesterfield, NH,
2. Madame Sherri's Forest
After picking up some food, a great place to go for a hike is Made Sherri's Forest, which we've written about  before. Madame Sherri's Forest, pictured above, is name after, Madame Sherri, an eccentric costume designer who took a liking to the woods just off Gulf Road in Chesterfield, New Hampshire.
She liked the area so much that she decided to erect a "castle in the woods". As one visitor later recalled the final work was: "a theatrical French chateau of New Hampshire stone, wreathed in Roman arches and crowned with a chalet roof. An imposing stone staircase—grand enough for a Follies stage set … had stone flower boxes with red and white flowers earning the name 'Primrose Path'. The main stairs, cut into the rock ledge, leading to a massive RED front door."
Though the castle was burned down 1962, the remains of the grand staircase and fireplace still stand. The ruins make for a great view on the short two mile Ann Stokes Trail loop. This is a great way to experience Cheshire,NH, be outdoors and maybe find something spooky.
3. Howard's Leather Store
Howard's Leather Store is one of Chesterfield's unique store's that you simply have to stop in to see when you're in the area. The store is a third generation family run leather store that sells only the highest quality apparel, western wear, jewelry and gifts.
The store is huge and packed with all sorts of intriguing goods, making it a perfect location to pick up some different souvenirs for your trip. They also provide a cool virtual tour of their store if you can't wait to see it.
4. Chesterfield Gorge Natural Area
The scenery along the Chesterfield Gorge Natural's 13-acre loop of the Chesterfield Gorge Natural Area is a truly a geological wonder. The awe-inspiring waterfall features 70 foot high walls of rock carved from the centuries of water flow from the Westfield River. The gorge is just an amazing site that is fairly easy to get to and well worth the hour it takes to walk the loop.
5. Actors Theatre Playhouse
Actors Theatre Playhouse is one of the oldest continuously performing arts group in New England, based in a beautiful old town meeting house. The playhouse is actually hitting its 40th anniversary this year. The play house offers a wide range of different plays. This year they will be doing a four week run of  Conor McPherson's The Sear Farer, a story of dark and engaging Christmas Eve in Ireland. Outside of the main-stage performance, the playhouse will be showcasing their own series of Literature as Performance and three Saturdays of staged readings. Make sure to go to their website, check out their calendar and find a performance when you're in Chesterfield, NH.
6. Chesterfield Inn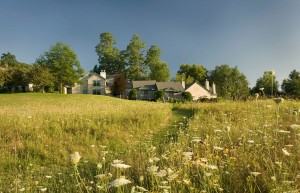 After your long day of hiking and traveling through Chesterfield, NH, you must top to get dinner and maybe stay the night at the Chesterfield Inn. The beautiful inn that sits on a hill side at the top of a winding driveway is known for its relaxed atmosphere, delicious food and gorgeous views. The inn is punctuated by 10 acres of serene meadows and bright gardens.  Make sure to find your way to the Chesterfield Inn as it's a great way to round out your trip to Chesterfield, NH.