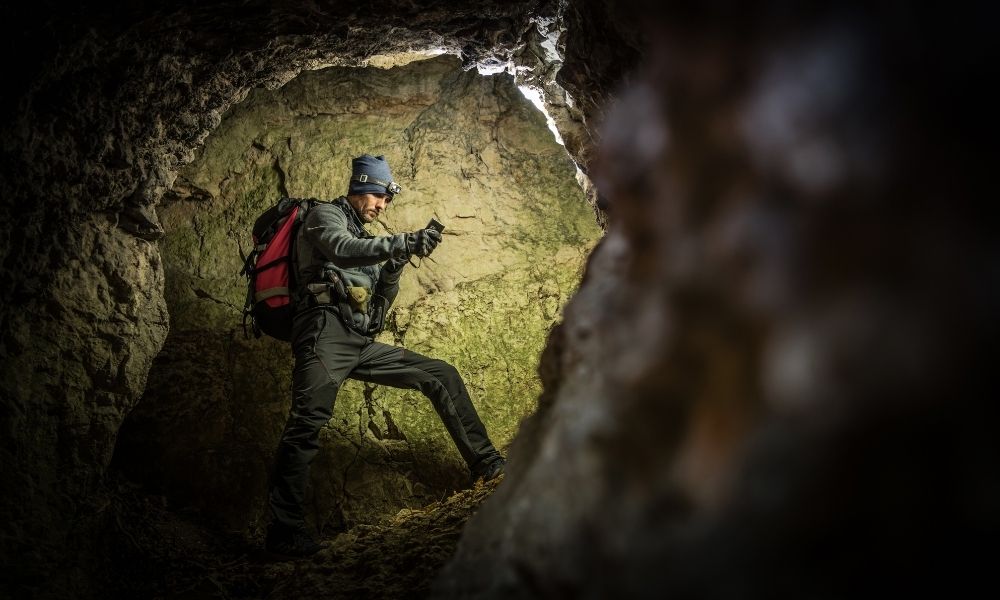 Mount Monadnock, and the surrounding hills, have numerous hidden spots, including gorgeous natural caves. Bear's Den, Wantastiquet Mountain, and the Warwick Preserve have some fantastic caves to explore. Pumpelly Cave, also known as Megalithia, is Monadnock's secret "cave" – worth an afternoon exploration to just find it!
If you're looking for something to do in the area, caving is both a fun and affordable option. But you don't want to walk into a cave without the essentials. Whether you're preparing for your first caving trip or feel like you were missing something on your last, this list of what you need for exploring caves will help you succeed.
Proper Attire
When you're out exploring, you'll want to wear clothing that's comfortable, flexible, and, preferably, moisture resistant. You might want to invest in coveralls or a caving suit. They're warm, flexible, and, depending on the material they're made of, virtually waterproof. Sneakers will do in a pinch, but to keep your feet free from blistering, it's much better to wear high-quality hiking boots and wool/neoprene socks.
You'll need apparel that's protective, too. One thing you should always wear is a good, sturdy helmet. This can protect your head from falling debris, like dust, rocks, or sharp, jagged stalagmites. To protect your hands and knees, wear a pair of thick leather gloves and protective knee pads. A waterproof backpack is important for storing other essential supplies, such as a map, first aid kit, and spare clothes.
Navigation Tools
The last thing you want is to get lost in a dark, winding cave! To prevent this, you'll need a way to navigate through it safely and effectively. Since your phone signal will be nonexistent, a physical paper map is the way to go. Additionally, a compass can help you keep track of your direction.
If you're less experienced, you might be traveling with someone, like a tour guide, who knows their way around the caves. In this case, it should be safe to leave any maps and compasses behind. Just make sure you don't get separated.
A Source of Light
Another thing you need for exploring caves is a source of light. Caves are dark. Most of us aren't built with stellar night vision, but a handy flashlight or headlamp can make for a good alternative. You should never enter a cave without, at a minimum, three independent light sources. It's important to carry a good headlamp, regular lamp, or flashlight with you, along with two spares. You should invest in an LED light source that's portable, and, when possible, rechargeable. These Nitecore headlamps are a reliable, high-quality option. A long-lasting candle, battery pack, and waterproof matches are good to bring along in case of emergency—but don't rely on those for your main light source.
Snacks and Drinks
Bringing snacks and bottled drinks and can help keep you full and hydrated during your exploration. Carry things like trail mix, a granola bar, dried fruit, and bottled/boxed drinks. Whatever you pack should be able to fit in your backpack or pockets and be easy to eat on the go. General stores and small town coops are great places to pick up your eats!
Check out some more great ways to enjoy nature in the Monadnock region here.