The Monadnock Brewery Tour – A True Craft Beer Destination
I enjoy craft beer, mainly due to the fact that I've dabbled in making it myself off and on over the last twelve years. My basic understanding of the process has given me an appreciation for this particular art form and a recognition for how difficult it can be to replicate recipes and produce a quality product time after time. I decided to further discover what the region had to offer by embarking on what turned out to be a very enjoyable brewery tour – three breweries over the course of a few days.
Until recent years, the business of craft beer in the Monadnock Region has only been occupied by a select number of breweries and brewpubs. That has changed drastically in the last couple of years. Small, worker-owned and run breweries like Belgian Mare Brewery, The Brewers of Nye Hill Farm, and Mooselick Brewing Company have emerged as quality options for those who enjoy a handmade oat soda.
The Brewery Tour Begins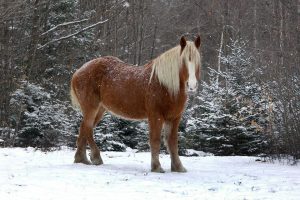 My tour began with The Belgian Mare Brewery in East Alstead.  It opened on May 31, 2014, and is owned and operated by fish biologist, Tim Roettiger. It is a small, extremely unique wood-fired brewery, specializing in unfiltered bottle conditioned traditional ales and other lagers. The brewery is named after his gorgeous Belgian mare called Agatha. Apparently, Aggie loves the attention that all visitors give her, but, she particularly adores it when children interact with her and when girls braid her mane.
After showing me around a bit and giving me the low-down on his equipment and processes, Tim graciously offered me a taste of his latest brew, Bishop's Steed, a dry-hopped classic English ale. It was fresh and delicious. He's eager for this to go on sale any day now. He considers his first beer, the Hemlock Stout, as his signature beer, but admits that every beer he makes has
its own unique following. Along with the responsibilities of brewing and sampling his brews in the tasting room, Roettiger does all of the deliveries too. "I really enjoy the direct contact with the customers," he says. Also, one exciting thing, at least for this beer drinker; he is moving towards barrel ageing beers in the near future!
Meeting his wife brought him to the Monadnock region about 10 years ago.  "It's the longest I've lived anywhere," says Roettiger.  As far as the future of craft beer in the region, he said "small businesses are the future, especially in East Alstead. The days of large companies employing entire towns are gone. There are now more entrepreneurs and tradespeople. More breweries is not a bad thing at all because it brings more people to the Monadnock region".
Belgian Mare brews are available at multiple locations in the region and across the state of New Hampshire. And, Roettiger invites folks to come see him and Aggie at the brewery and tasting room, starting in early May. Personally, I can't wait!
The Brewery Tour: Farm to Barrel
Next, I was treated to the beautiful scenery and mystique of the Nye Hill Farm in Roxbury. Brewer, Sue Benik, greeted me and showed me around the farm. This place is gorgeous. The farm has a rich history, one that the current owners are deeply committed to curating for the years to come.  Per their website: "As a diversified, natural, sustainable farm, we are committed to providing the healthiest, highest quality produce while honoring our respect for the land we steward".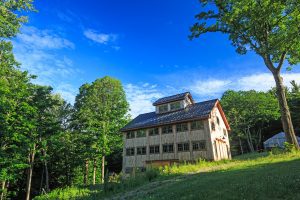 I asked, ok so, why a brewery? Sue shared, "We are farmers and brewers, just like those who came before us. We are a local organic farm that uses organic, locally sourced ingredients". Thus, The Brewers of Nye Hill Farm formed and they crafted their first beer in April of 2014. They brew in single barrel batches in their barn-based brewery that overlooks their expansive orchard, pastures and fields.
The current owners always wanted to buy a farm. On a visit to New England, they were drawn to the Monadnock Region, the "quiet corner" of New Hampshire. When Roxbury celebrated its bicentennial in 2012, Nye Hill Farm was recognized as a historic site.
At the moment, they have two signature beers. Old Gent, is a delicious, hop-filled, and easy to drink American Pale Ale. This is the debut in their series of NyePA's. Get it?  Personally, I'm looking forward to more of these! The next is a seasonal offering called An Aoire. This is an aromatic, tasty ginger porter that is smoky and sweet with a little bit of heat.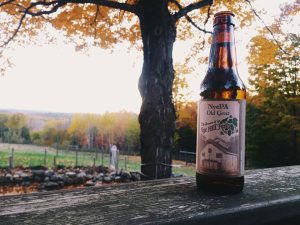 Benik was excited while sharing their vision for craft beer in the Monadnock region. "All of the brewers in the region – established and new – have been so supportive since the very beginning! It's a wonderful group of collaborative folks who continue to share their ideas, successes, and challenges along the way".
Typically, you can find their beer on tap at Fireworks Restaurant or in the bottle at Brewtopia in Keene. But, Benik shared, "The plan is to be open in the spring at the brewery with tap lines for tasting". So, keep checking social media for their start date, which will likely be soon. I asked, is there anything else you'd like to share. Benik said, "We're all about good food, good beer, and good living." I'll drink to that.
The Brewery Tour: Keeping it interesting with unique flavors
Last, I met up with the folks in Troy, at the Mooselick Brewing Company. Co-owner and Head Brewer and Engineer, Dave Morse gave me a tour of the facility, while sampling their delectable, Cocoa Mooseberry Stout. I had to really concentrate on what he was saying because I was getting pleasantly distracted by the notes of red raspberries and cocoa and the silky creaminess of this one. Wow! Morse said, "My goal is to consistently make a flavorful beer at a reasonable alcohol level".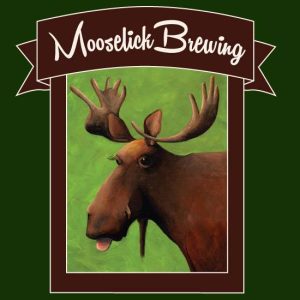 A job brought him and his wife to the region about twenty years ago, and they've settled comfortably in Keene. Morse said, "While visiting for the job, my wife and I realized that this was a wonderful small town and appeared to be a great place to raise a family. We were right".
Morse spent 25 years home brewing, experimenting with different styles and recipes before deciding to open Mooselick. "I'm not the type to brew a batch over and over again. I like to do many different recipes. In looking at where to start, there seemed like there was an opportunity to make an impact in Southwestern NH, specifically to set up in Troy with good proximity to the surrounding towns and region".
The story of how Morse met his partners and began the brewery is quite extensive and is worth a read on their website. They opened less than one year ago on July 25, 2015. Since then, their wide range of fruit beers and traditional brews have received a great deal of acclaim.
Morse considers Velvety Antlers, their Brown Ale with fruit added, as one of their flagship beers. See if you can determine which fruit is part of this unique brew, which is also fermented on oak chips. He also made mention of their popular Moosehide Amber Ale, which contains an abundance of aroma hops, yet very little bittering hops. This brew is a treat for even the most discerning of hopheads.
As for the future of craft beer in the Monadnock region, Morse had a lot to say. "There is plent
y of room for growth. At the moment, there is a larger craft beer audience in Eastern NH, but, the future is bright for bringing more visitors to the Monadnock Region using quality wine, craft beer, and spirits all made in the region".
If you can't make it to their tap room in Troy on the weekends (Saturday and Sunday, 12pm-5pm), there are plenty of local stores, restaurants and bars to obtain their beer in the region. And, they plan on being open on Fridays from 4-7pm, starting March 18th. I'll see them soon!
The Brewery Tour: Plan your trip!
With all of these breweries, be sure to visit Facebook for more information and the most up to date offerings and hours of operation.
The folks I spoke with were incredibly generous and eager to share their stories, while providing their views and visions for the future of craft beer in the region. These three and others are part of what has become a bona fide quality craft beer destination in New England. So, when you're planning your next trip to New Hampshire this spring and beyond, be sure to visit one or more of the many established and up and coming breweries in the Monadnock Region – where the beer is just as exceptional and unique as the folks who brew it. Cheers!
---
This article was written and submitted By Eric V. Weisenberger
As an avid homebrewer, Eric is interested in sampling beers and supporting new and established breweries, in an effort to further understand the craft. When he isn't responsibly touring breweries and tasting beers all over New England, he works for The Colonial Theatre in Keene, NH and is on the Board of Directors at Arts Alive! He resides in Keene, NH.